Editor's note: Insider presents MMA10, a weekly top-10 poll of MMA fighters, trainers and coaches on a variety of topics. This week: Top 10 strikers.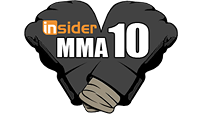 While wrestling and jiu-jitsu are the great equalizers in mixed martial arts, there is little question that fists and feet are what sell tickets and pay-per-views.
A look at the results of our poll of the best strikers in the sport shows strong stand-up skills may also be the key to winning titles. The top four spots are occupied by current UFC champions and seven of the top 10 have held UFC gold.
That makes sense. Every fight starts standing up and each of the top 10 fighters on this poll is more than capable of ending a fight at any moment with a wide array of strikes. Whether it be with punches, kicks, knees or elbows, these guys are all powerful and accurate with their assaults.
Here's our ranking of the top 10 mixed martial artists who possess the best striking skills.