Editor's note: Insider presents MMA10, a weekly top-10 poll of MMA fighters, trainers and coaches on a variety of topics. This week: top 10 wrestlers.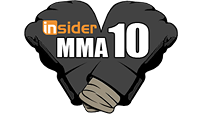 Ninety percent of fights end up on the ground, which means getting there has become one of the most important skills any fighter can learn.
Wrestling and the various technical ways of earning a takedown have become a top priority for champions and challengers alike. Though many of the best are still the guys who wrestled for Division I college programs, others have picked it up and, through hard work and technical observation, learned the art of taking fights to the ground.
Here is our ranking of the top 10 mixed martial artists who have the best wrestling skills:
St-Pierre
The only member of this list who didn't compete in folkstyle or freestyle wrestling, St-Pierre has somehow claimed the top spot. According to his grappling coach, John Danaher, St-Pierre's advantage is that when he started wrestling at age 17 he began with members of the Russian national team and other technically proficient, Olympic-level wrestlers. His most dominating performance came in his first fight against Josh Koscheck in which he shot double leg after double leg, finishing a high percentage of his attempts. Koscheck, an NCAA champion who many considered to be the best wrestler in the sport at the time, couldn't answer the speed, power and technical perfection of GSP's attacks. The welterweight's last fight against Carlos Condit was another example of how St-Pierre wins by creating takedowns, managing top control and using the position to enforce devastating damage from guard, half-guard and side control.