Editor's note: Insider presents MMA10, a weekly top-10 poll of MMA fighters, trainers and coaches on a variety of topics. This week: top 10 jiu-jitsu artists.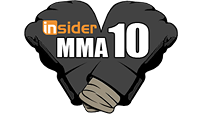 Just as it was in the early days of mixed martial arts, jiu-jitsu is the great equalizer.
Strikers make the headlines and wrestlers possess the ability to dictate where a fight takes place.
But both styles of fighters are never completely safe against an elite grappler. Take down one of these guys and he can submit you from the bottom. Knock him down and you better finish him before he is able to grab a hold of a limb and turn the tables.
And forget it if you get mounted.
Here is our ranking of the top 10 mixed martial artists who have the best jiu-jitsu skills:
1. Demian Maia | welterweight | UFC
Maia
Sure he has shown a weak chin at times, but Maia still found his way into the top spot of a poll that simply measures pure skill. There is no questioning the credentials of one of the most decorated BJJ practitioners to ever compete in MMA. The 2007 Abu Dhabi Combat Club Submission Wrestling World Champion has nine submission victories in his MMA career, including four submission of the night bonuses.
He showed he still has a killer instinct in the cage with a first-round neck crank victory over Rick Story in October. Maia's drop to welterweight once again makes him a threat to win a UFC title as he is no longer competing against much bigger opponents.