Editor's note: Insider presents MMA10, a weekly top-10 poll of MMA fighters, trainers and coaches on a variety of topics. This week: top 10 underrated fighters.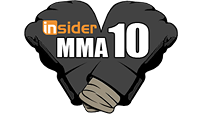 Ignored by the fans and the media, these 10 fighters have the talent and potential, but are largely overlooked and dismissed.
The career arc of a professional fighter isn't as objective as it seems. Yes, there are wins and losses, knockouts and submissions, all which can be counted and assessed, but what really separates a fighter from a title shot or national acclaim? The UFC no longer claims to be a meritocracy for talent and though Bellator's tournament format allows for straightforward advancement, it comes at a heavy cost to fighters, leaving fighters in both organizations overlooked and underappreciated.
The economy of fighting is based in metrics of attention. How many viewers can the fighter draw to PPV? How much promotion can the fighter undertake on Twitter? What gate can they draw and how much mainstream media can they do? When it comes to making a fight, the talent of a fighter can be easily usurped by his profitability. The fight game creates money by shining a spotlight on those that earn PPV dollars, sellout arenas and can make mainstream news stories. And yet among the 500 or so contracted fighters between the two organizations there are bound to be fighters that get overlooked and ignored. According to the fighters, these are the top 10.
1. Renan Barao | interim bantamweight champion | UFC
Barao
The only UFC title-holder on the list, Renan Barao's ascendancy to the interim bantamweight belt happened without much fanfare, despite the fact that the 25-year-old Brazilian is highlight film every time he steps in the Octagon. Against Brad Pickett at UFC 138, Barao unleashed three of his favorite skills in a split second, using a flying knee to stun the Brit before uncorking 20-plus jabs and hooks from his feet, and finishing the fight with a rear-naked choke. The hard-striking Brazilian is unbeaten in his last 30 fights, and with current UFC champion Dominick Cruz out another year due to injury Barao will defend his belt against Michael MacDonald in London on Feb. 17. Maybe a win will help him earn more attention?