Editor's note: Insider presents MMA10, a weekly top-10 poll of MMA fighters, trainers and coaches on a variety of topics. This week: top 10 overrated fighters.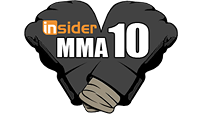 There might not be a more subjective term in sports than overrated.
It's one that is probably overused and has far too negative a connotation.
An athlete or team, in this case a fighter, must achieve a certain level of success to be saddled with the dreaded label and thus has to at least be pretty good.
Yet it is heard every day. A top-10 college basketball team goes on the road and loses to an unranked squad and the chant goes up throughout the arena: "O-ver-Rat-ed." It doesn't mean the team is bad, just that it didn't live up to the collective opinion of it on that particular day.
In individual sports, it's only slightly different. Some of the best fighters in the world have been voted on to the MMA 10 most overrated fighters list. Inclusion doesn't mean these guys are no good, simply that, for whatever reason, it is perceived that the opinion of them in the public conscious is higher than their current ability level would dictate.
The old cliché about beauty being in the eye of the beholder certainly factors in here. This is unquestionably an opinion-based response with absolutely no way to measure the proper answer or any kind of set criteria.
It was no surprise based on that analysis that the respondents to this poll were quite varied in their rankings. In the end, however, these 10 names stood out from the rest on our first survey of the 10 most overrated fighters in mixed martial arts today.
Faber
There is no doubt Faber is firmly in the top five bantamweights in the world. He has had no trouble getting title fights, but the former World Extreme Cagefighting featherweight champion has been unable to figure out a way to put the belt around his waist again. Between the WEC and UFC, and featherweight and bantamweight, Faber has been in four title fights over his last eight bouts. He has lost all four. The fact he keeps getting title shots and keeps coming up short is undoubtedly a major factor in Faber ending up in this spot. He could change that opinion quickly should he get another chance and emerge victorious.