Editor's note: Insider presents MMA10, a weekly top-10 poll of MMA fighters, trainers and coaches on a variety of topics. This week: top 10 all-time light heavyweights.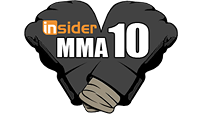 For many years, the 205-pound division stood out as the marquee weight class in mixed martial arts. Many of the fights that helped turn the Ultimate Fighting Championship into the global entity it is today were contested at light heavyweight.
At the same time, the corresponding division in PRIDE was similarly stacked. While heavyweights have typically ruled the boxing world, the light heavies combined power and athleticism to become the biggest stars in the emerging sport of MMA.
These 10 names stood out as the biggest stars from that division according to our voters, who elected them the top 10 mixed martial arts light heavyweights of all time.
Liddell
Polls can be very subjective. This might be a glaring example of that fact. Liddell likely gets credit from voters for being one of the most popular fighters to ever step in a cage and the face of the UFC when it first burst into the mainstream consciousness. He had a very dominant stretch as champion during which he knocked out each challenger from 2005 to 2007, a key period for the sport. Liddell certainly carried impressive credentials in the cage. He was a devastating striker with strong takedown defense that allowed him to keep fights in his comfort zone.
Sure, he had his shortcomings and he stayed around too long, losing five of his last six fights. That obviously didn't bother the voters, though. Liddell's ranking is also largely bolstered by the fact that he emerged as the victor in rivalries with fellow superstars of the era, Randy Couture and Tito Ortiz. The list of opponents Liddell beat in his storied career could serve as a hall of fame in its own right. In addition to Couture and Ortiz, Liddell defeated Wanderlei Silva, Alistair Overeem, Vitor Belfort, Kevin Randleman, Jeremy Horn and "Babalu" Sobral, among many others.