Editor's note: Insider presents MMA10, a weekly top-10 poll of MMA fighters, trainers and coaches on a variety of topics. This week: top 10 all-time middleweights.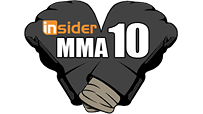 Anderson Silva is the top middleweight in MMA history. Not surprisingly, the Brazilian front-kicked his way to our poll's first unanimous selection, but while his dominance is historic, it's also troublesome when sussing out which remaining middleweights should be listed. Unlike the heavyweight division where turnover allows for greatness in intervals, Silva's eight-year reign at middleweight has created a talent vacuum where few competitors could create traction or marketability.
Despite Silva's continued dominance, other champions and contenders of merit have made an impression on those we polled. Somehow amid the glow of Silva's fame our panel was able to cobble together nine more names, though none enjoyed the unanimity of "The Spider."
So here are the 10 names that stood out as the biggest stars according to our voters, who elected them the top 10 MMA middleweights of all time.
1. Anderson Silva | Record: 33-4-0
Silva
The Spider's dominance can be measured in a number of ways. The 37-year-old Brazilian has been fighting consistently for 13 years, and in that time has accrued an unbelievable string of records including 16 consecutive wins in the Octagon and a promotional best 10 straight title defenses. He's unbeaten since 2004 and has finished an incredible 14 of 16 opponents in the Octagon.
It's not just numbers, but Silva's aptitude for expanding the possible -- playfully dodging Forrest Griffin's fists before delivering a knockout punch, or crippling Vitor Belfort with a front kick to the jaw -- that have earned him mention as the overall greatest of all time. But if you still like facts, consider that Silva also owns the most knockdowns in UFC history (17) and has a promotional-best 67 percent striking accuracy inside the Octagon, a full 8 percent better than the second-place fighter.
---
Henderson
Though he knocked out Fedor Emelianenko at heavyweight and put up a "Fight of the Year" performance in a light heavyweight battle with Maurcio "Shogun" Rua, Dan Henderson remains one of the most respected middleweights in MMA history. The former Olympic wrestler won the UFC 17 middleweight tournament winner in 1998, but instead of sticking around for the slow and litigious maturation of the UFC, he jetted to Japan where he fought for seven years in PRIDE, accumulating multi-divisional wins over Wanderlei Silva, Vitor Belfort and Antonio Rdorigo Nogueiera. Henderson wrapped up his UFC middleweight career with a knockout of Michael Bisping in 2009 at UFC 100, a win that earned him several "Knockout of the Year" honors.
The 42-year-old former champion isn't done fighting. Now settling in at light heavyweight, Henderson is riding a four-fight win streak and faces Lyoto Machida in a title elimination bout next month.