Editor's note: Insider presents MMA10, a weekly top-10 poll of MMA fighters, trainers and coaches on a variety of topics. This week: top 10 all-time featherweights.
Another weight class, another unanimous selection.
The featherweight division hasn't been around very long, at least at the top level of the sport, so it's not completely out of line that everyone on the panel settled on the current king of the division as the best 145-pound fighter in the sport's history.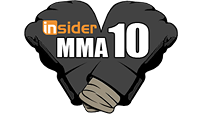 Jose Aldo is the runaway winner. Who could argue?
Though he is just 26 years old, the first and only UFC featherweight champion has not only turned back all of his challengers -- he has crushed them.
He has the opportunity to further solidify his position at UFC 156 on Saturday when he takes on former lightweight champion Frankie Edgar. Perhaps Edgar could have been on this list had he dropped down to 145 pounds a few years ago. He still has time if he can get past Aldo and decides to stay at featherweight.
Barring that development, Aldo looks to have a grasp on the top of this list for a long time to come.
The only tough decision our voters had to make was how the rest of the top 10 lined up after Aldo.
One trend that became quite clear is an obvious bias toward more recent fighters and those who have fought in America, despite a very deep pool of Asian fighters from the past.
Here are the 10 fighters who stood out as the top all-time featherweights according to our voters.
1. Jose Aldo | Record: 21-1
Aldo
The first and only UFC featherweight champion has won 14 straight fights and has barely been tested in 11 fights since making his World Extreme Cagefighting debut in 2008. A lightning-quick striker with power, which sums up Aldo, has rarely been seen in this division. Few fighters possess a weapon that is as effective in dictating a fight as his brutal arsenal of leg kicks. Aldo has been so good in the standup that his ground game has almost turned into a mythical force. Insiders always talk about how good his ground attack is, but it has never really been seen. As Zuffa has built the featherweight division into a marquee weight class, Aldo has taken on all comers. Nobody has truly challenged his dominance. And he's just 26 years old.