Editor's note: Insider presents MMA10, a weekly top-10 poll of MMA fighters, trainers and coaches on a variety of topics. This week: the top 10 non-UFC fighters.
The pool of highly talented fighters looking for work expanded rapidly Wednesday when the UFC dismissed a record-setting 16 fighters in a single culling. Most shocking of the cuts was perennial welterweight contender Jon Fitch, who was only a few months removed from a Fight of the Night performance.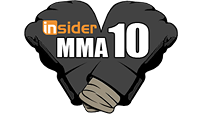 In addition to the new free agents, there is a talented pool of fighters at BellatorMMA, RFA and the World Series of Fighting, who all deserve recognition. To assemble our list of the top non-UFC fighters, we asked our panel to consider anyone not currently under contract with Zuffa.
Here is our ranking of the top 10 non-UFC fighters in mixed martial arts:
The former NCAA All-American wrestler has defended his Bellator belt twice, but it's his fourth-round victory over Eddie Alvarez that still stands as his most notable win. With competent hands and an aggressive style rooted in American combat jiu-jitsu, Chandler has the most skill and ferocity of any fighter not signed under the Zuffa banner. If BellatorMMA CEO Bjorn Rebney can deliver high-quality opponents (or even a rematch with Alvarez) to Chandler, the 26-year-old could propel himself into the discussion as a top-10 pound-for-pound fighter.