Editor's note: Insider presents MMA10, a weekly top-10 poll of MMA fighters, trainers and coaches on a variety of topics. This week: Top 10 technicians.
Fundamentals are the building block to success in every sport. The best players aren't necessarily the most fundamentally sound, but rarely will you find someone reach the very top level of their sport without mastering the basics.
Mixed martial arts is, of course, different than the bat-and-ball sports, but a similar theory can be applied. Fighters must master the basics in order to be successful. This list examines which fighters our panel feels are the most technically sound in terms of either all-around skills or in a particular discipline.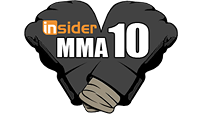 Think along the lines of baseball. Some players can crush the ball, but you would never teach your kid to swing like that. This list is about the players who have the swings you would find on one of those instructional videos advertised on TV in the middle of the night.
Some of them are also among the sport's elite. That's going to happen when you have people voting, obviously influenced by success.
One name you won't find on this list is Jon Jones. His skills are very unorthodox and he has actually spoken about trying to avoid being too technically sound so he doesn't get predictable in the cage.
Here's our ranking of the top 10 mixed martial artists who are the best technicians.
St-Pierre