Editor's note: Insider presents MMA10, a weekly top-10 poll of MMA fighters, trainers and coaches on a variety of topics. This week: top 10 all-time lightweights.
The lightweight voting provided some of the most interesting results to this point in our division-by-division look at the all-time greatest fighters in each weight class.
The top of the division is filled with incredibly talented fighters who had mixed results against each other. Frankie Edgar seems to be able to beat anyone but Benson Henderson at 155 pounds.
BJ Penn is still thought of as one of the best pure talents ever at lightweight, but he suffered two losses to Edgar. And Gray Maynard looks unbeatable against everyone but Edgar.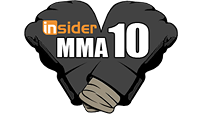 The chaos at the top of the division left quite a bit of drama for our panel of voters as they tried to settle on the 10 best lightweights of all time in mixed martial arts. Two of the top 10 match up this week as Henderson defends the belt against Gilbert Melendez at UFC on Fox 7 in a fight that certainly would have altered this list had it been voted on next week.
Here are the 10 fighters who stood out as the top all-time lightweights according to our voters.
Edgar
It's rather amazing that a fighter currently in the midst of a three-fight losing streak who no longer competes at 155 pounds finds his way into the top spot in the poll. The fact he was voted No. 1 goes to show just how impressive Edgar's run was for several years at lightweight. The incredibly durable New Jersey native began his career 15-1-1, a run that included two victories over Penn. Edgar shocked the world the first time he beat Penn, but followed it up with another win in the rematch to firmly establish himself as the lightweight champion. Perhaps even more impressive were his second and third fights against Maynard. Edgar survived a brutal onslaught from Maynard early in the second matchup to salvage a draw, and then avenged the only loss of his career with a knockout of Maynard in the third battle. Edgar appears set to stay at featherweight for the foreseeable future, so there is a good chance that his spot in this poll is in serious jeopardy if the votes are recast anytime soon.