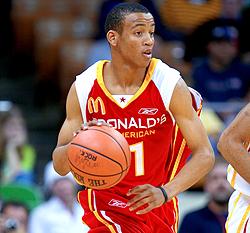 (PG) Monta Ellis - Lainier HS (MS)
Chad Ford's Analysis:
Insider Only



Draft Projection: No. 14 to 45 overall

Similarities: Chauncey Billups

Notes: Insider Only

Positives:
Insider Only

Negatives:
Insider Only



Summary: Who knows. There's been zero buzz about Ellis and now most scouts are conceding that he's not a point guard. After he tested so poorly athleticially in Chicago, the second round sounded like a forgone conclusion. However, a number of GMs have told Insider they believe Ellis has a promise somewhere in the mid-first round. No one, however, seems to have a clue where it is.