Updated:
April 30, 2014, 12:17 PM EST
Goodman: 2014 NBA mock draft 2.0
Kansas boasts two of the top three picks; Duke's Parker new No. 1.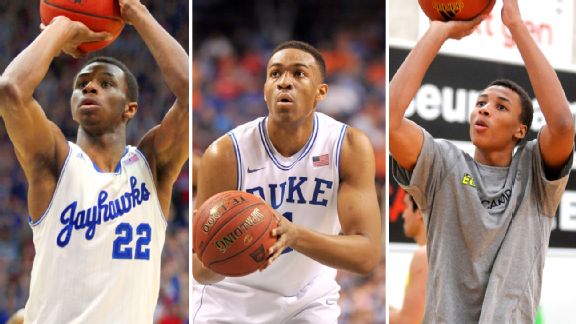 Getty ImagesAndrew Wiggins, Jabari Parker and Dante Exum are all competing for the NBA draft's top spot.
The NBA's draft deadline has come and gone, and now we know which college players are in the June 26 draft and which ones will return to school for another season. With less than two months until the draft, it's still a three-man race -- one that's fairly wide open -- to see who will be the No. 1 overall pick.
That will depend on which team is fortunate enough to land the top selection on May 20 in the draft lottery.
Remember, this isn't a mock draft based on what I would do. It's based on information gathered from NBA executives, college coaches and other industry sources.
1
Jabari Parker
Milwaukee Bucks (42 - 40)
Analysis: Bucks GM John Hammond was said to be favoring 7-foot Joel Embiid, before the back injury that kept him off the court for the Big 12 and NCAA tourneys. He can ill afford to miss on this one, and Parker is the safe pick. He can also help the Bucks immediately with his ability to score in a variety of ways.
2
Andrew Wiggins
Philadelphia 76ers (28 - 54)
Analysis: New GM Sam Hinkie needs plenty, which was clear during the team's losing skid. He has a talented young point guard in Michael Carter-Williams and a defensive-minded big man in Nerlens Noel. Adding a talent the likes of the ultra-athletic Wiggins would be huge for this franchise.
3
Joel Embiid
Orlando Magic (29 - 53)