Updated:
May 29, 2014, 01:39 PM EST
Jeff Goodman's Mock Draft 3.0
Embiid, Wiggins, Parker all in play for No. 1 overall slot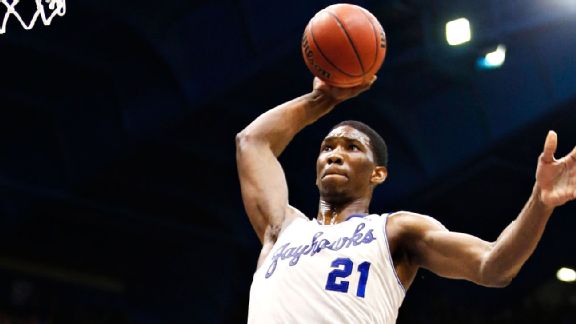 Bo Rader/Wichita Eagle/MCT/Getty ImagesIs Joel Embiid the Cleveland Cavaliers' guy?
The NBA's draft lottery is more than a week in the rearview mirror and now we've had a chance to accumulate some intel with the NBA draft now just about a month away.
The Cleveland Cavaliers have a difficult decision to make -- choosing between Joel Embiid, Andrew Wiggins and Jabari Parker. Who gets the nod?
Here's my third mock, based on the latest information I've gathered.
Remember, this isn't a mock draft based on what I would do. It's based on info gathered from NBA executives, college coaches and other industry sources. It's my hunch based on what I've heard so far.
1
Joel Embiid
Cleveland Cavaliers (51 - 31)
Analysis: Cavs GM David Griffin has a difficult decision to make between the 7-foot Embiid and a pair of contrasting forwards: Andrew Wiggins and Jabari Parker. Multiple sources insist that the Cavs favor Embiid as long as the medical info regarding the back injury that kept him off the court in March checks out clean.
2
Jabari Parker
Milwaukee Bucks (42 - 40)
Analysis: The Bucks will have a choice between the ultra-athletic Wiggins and the skilled Parker if Embiid is off the board. That will be an agonizing decision for GM John Hammond, who will balance taking the more-NBA ready Parker and Wiggins, who appears to have the higher upside. Hammond can ill afford to miss here, and that will be why he ultimately goes with Parker.