Updated:
July 16, 2014, 11:40 AM EST
Chad Ford's 2015 Big Board
Chad Ford takes an early look at the best 2015 has to offer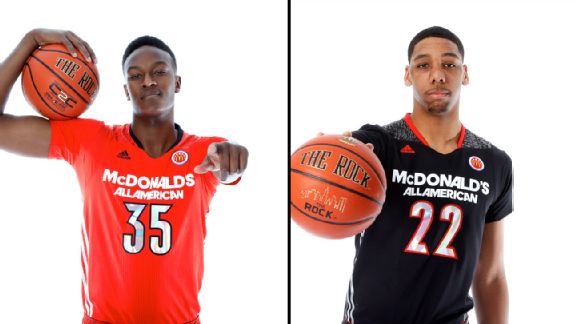 Brian Spurlock/McDonaldsTexas' Myles Turner, left, and Duke's Jahlil Okafor both have the skills to be elite NBA big men.
The
2015 NBA draft
will have a hard time living up to the 2014 edition, which boasted one of the best talent pools in memory. But that doesn't mean next year's draft will be a disappointment. There's still plenty of talent to go around. Our first 2015 Big Board showcases two very strong No. 1 candidates at the top and highlights a number of interesting big men who fans and front offices alike will soon be excited about. Altogether, the group should include somewhere between three and five future All-Stars. Still, it's not the type of class that will cause teams -- other than the
Philadelphia 76ers
-- to jostle for picks or gut their rosters and tank. The day after the draft, we debuted our first
Top 100 of 2015
. That list represented the consensus of NBA scouts and GMs regarding each prospect's relative NBA value. Our Big Board, on the other hand, dives deeper, taking a more detailed look at the draft's top 30 players -- essentially, those who are most likely to be selected in the first round. By tracking player movement and stock fluctuation and by taking into account the latest intel from scouts, we do our best to draw a complete picture of who will take the stage at the draft next June. The biggest takeaway from this year's version? If you need a big man, this is your year. If you need a guard -- well, better luck next time. Now, without further ado: our first Big Board of 2015.
1
2014-15 STATS
PPG 17.3
RPG 8.5
BPG 1.4
As we learned with Joel Embiid, size eventually outweighs just about everything else come draft time. At 6-foot-11 with a 7-foot-5 wingspan and 9-foot-3 standing reach, Okafor is absolutely massive. And he has enormous hands and quick feet for a player his size to boot. As a true low-post player with a fairly sophisticated low-post game for his age, Okafor will no doubt intrigue whatever team ends up picking first. But despite his size, Okafor lacks elite athleticism and typically plays below the rim. If he were a better athlete, and if he were in better shape, he'd be a lock for the No. 1 pick. As it stands, he'll likely be the focal point of Duke's offense this season, which should give him plenty of chances to outshine any concerns about his game. If the team drafting No. 1 is in need a center, Okafor is a lock for the job.
2
The news that Mudiay would skip his freshman season at SMU and instead play overseas this season sent shock waves through the college basketball crowd. But among NBA circles this won't move the needle much, if at all. Yes, Mudiay's departure hurts SMU. Yes, Mudiay will miss the chance to be coached by Larry Brown. But after watching Dante Exum pass on heading to college last year and still end up as top-5 pick in a loaded draft, does anyone seriously think Mudiay playing overseas is going to scare off GMs?
Mudiay was the best player at the
Nike Hoop Summit in April
. Among the 30-plus GMs and scouts I surveyed, he was one of only two players (Okafor was the other) to be mentioned as a potential No. 1 pick. If he was smart, he'd shut it down completely, hire an agent and trainer like Exum did and spend the year training for the draft. He'd be impossible to pick apart then. If he goes overseas, he'll likely struggle like most young point guards do there. Scouts already expect him to struggle, so doing so won't hurt his stock. NBA folks are obviously bummed they don't get to see him play college ball for a year, but the effect on his draft stock should be minimal. He'll stay at No. 2 and I'd be shocked if he slides much from that spot.