Updated:
August 04, 2014, 12:44 PM EST
Way-too-early 2015 Mock Draft
Sixers select Duke's Okafor No. 1 in long-range projection of 2015 NBA draft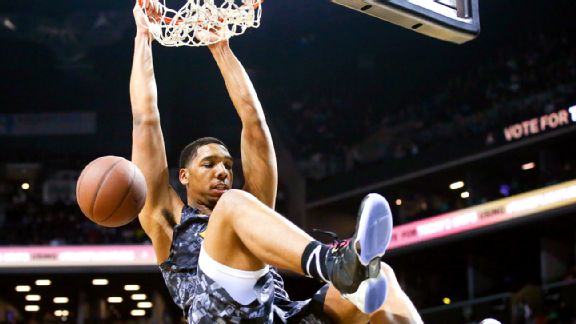 Rich Graessle/Icon SMIWe're a long way out, but Duke big man Jahlil Okafor projects to be the top pick in the 2015 draft.
A mock draft in August?
Hey -- there's a reason it's dubbed "Way too early." But while it might seem a bit absurd to try to project which teams will pick which players when we haven't even played a game, interest in the 2015 draft is already high among NBA execs, scouts and fans. Above all, the goal here is for you to get an early look at how the top prospects for next season stack up.
Thanks to voters at ESPN Forecast, we have a first glimpse at how we think the selection order might look like on draft night in June. Our panel of writers and editors predicted the odds of each team winning the title, and we reversed those odds to come up with a mock draft order. Again: I didn't choose the selection order. Note that based on the latest trade buzz, the odds assume Kevin Love will be dealt to Cleveland, so the predictions account for his presence on the Cavaliers, as well as the Pacers' outlook in the wake of Paul George's injury.
Remember, in a mock draft we don't tell you where a player should go, but rather what each team in the draft would likely do with its pick(s). If you're looking for a ranking of players, check out our first 2015 Big Board here.
When taking into account team needs, it's our best stab at a full first-round mock draft (assuming every eligible prospect who has yet to state his intentions on the draft declares). Obviously, nothing is set in stone. Expect this mock draft to fluctuate greatly over the course of the next 10 months.
Without further ado, I present 2015 Mock Draft 1.0, Summer Forecast edition.
1
Jahlil Okafor
Philadelphia 76ers
76ers' odds of winning lottery: 25 percent
The Sixers finished with the second-worst record in the league last season and have done little to help their cause in 2014-15. They drafted two players who likely won't play for them this season (Joel Embiid is expected to miss much of the season while recovering from injury, and Dario Saric is playing in Europe) and have done little in free agency. Nerlens Noel will be the big addition to the team. Although the odds are heavily in the Sixers' favor to land the No. 1 pick, this draft will do little to help their team needs.
The team has two young centers in Noel and Embiid. But Okafor is the consensus No. 1 pick right now, and with the exception of Emmanuel Mudiay, all the other top prospects are bigs as well. Although Okafor is different from Noel and Embiid -- the Duke freshman is an old-school, back-to-the-basket, below-the-rim post beast -- he could create a log jam considering Philly's roster. But for GM Sam Hinkie, assets are the key right now, and Okafor appears to be the most valuable asset in the draft.