16. 2007 EASTERN CONFERENCE FINALS: CAVS VS. PISTONS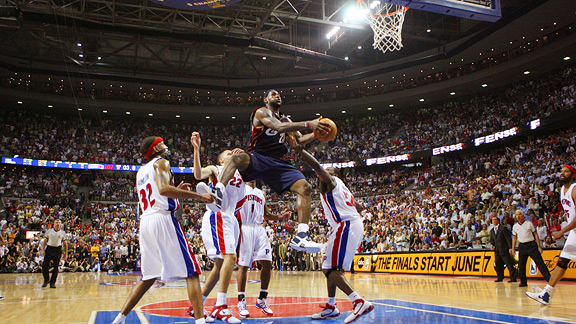 This series is notable for one of the great individual performances in playoff history. LeBron James scored 25 straight points at the end of regulation and in the two overtimes to lead underdog Cleveland to a stunning Game 5 win in Detroit. The Pistons then melted down in Game 6 as the Cavs completed their rally from a 2-0 deficit.
This was a tight series throughout, with the first two games won by the Pistons by identical 79-76 scores and the first five decided by six points or fewer. And before his heroics, James was criticized for a decision to pass to Donyell Marshall rather than shoot it himself at the end of Game 1.
But that was all forgotten after his heroics in Game 5. James rallied Cleveland from a seven-point deficit with 3:15 to play and hit the game-winning lay-up with two seconds left in the second overtime to finish with 48 points.
Photo credit: Ned Dishman/NBAE/Getty Images