21. 2009 EASTERN CONFERENCE FINALS: MAGIC VS. CAVS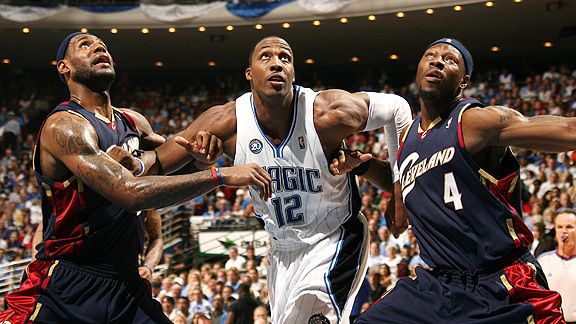 This Eastern Conference finals was interesting right from the start, with one-point games in each of the first two contests. Game 2 was won memorably on a miraculous LeBron James 3 at the buzzer, while Orlando claimed the opener on a slightly less dramatic 3-pointer from Rashard Lewis after trailing by 15 at halftime. Orlando even more improbably rallied from 23 points down in Game 2 to take the lead before James' shot evened the series.
James scored 49 points in the opener and averaged 38.5 for the series, but was foiled by Orlando's combination of fearsome center Dwight Howard and a flotilla of 3-point shooters that bombed away around him. The pivotal contest was Game 4, when the Magic won by two in overtime as James' try at a second miracle 3-pointer fell just short.
This series also grades high on quality. Although neither team has won a championship, only three conference finals in history featured more combined wins than the 125 by Orlando and Cleveland in 2008-09.
Photo credit: Nathaniel S. Butler/NBAE via Getty Images