31. 1995 WESTERN CONFERENCE SEMIFINALS: ROCKETS VS. SUNS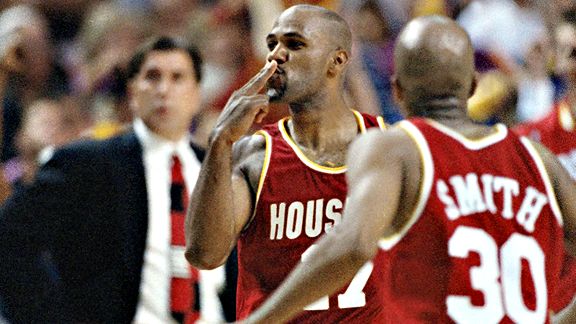 The second and better of the two Suns-Rockets second-round epics in the inter-Jordan years, this one featured the Rockets rallying from series deficits of 2-0 and 3-1, and coming back from 10 points down in Phoenix in the seventh game by shooting 73 percent in the second half. The Rockets won in dramatic fashion on a Mario Elie corner 3-pointer -- followed by Elie blowing a kiss to Phoenix's bench. This game is also renowned for one of the league's most memorable dunks -- little Kevin Johnson's facial on Hakeem Olajuwon.
Before then, the Rockets had to survive an overtime Game 5 in Phoenix -- with the help of an inexplicable decision to give Wesley Person the last shot in regulation. Amazingly, the Rockets were blown out by a combined 57 points in the series' first two games and survived punting a 15-point lead at home in Game 4 before coming back to win.
Photo credit: AP Photo/David Phillip