36. 1986 EASTERN CONFERENCE SEMIFINALS: 76ERS VS. BUCKS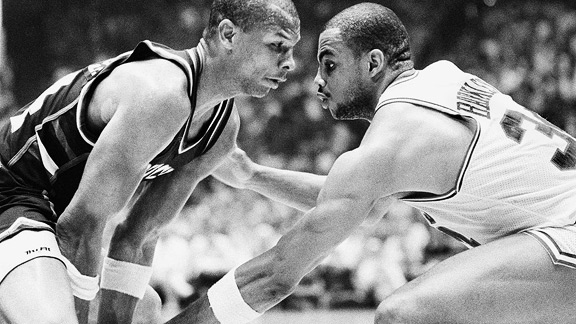 For the second time in six years, the Bucks and Sixers played a seven-game second-round series that the home team won by a single point in the final game. This time the Bucks survived, winning 113-112 behind Terry Cummings' 27 points ... but only after Julius Erving's attempted game winner couldn't find the net, a shot that would have sent Milwaukee home at the Sixers' hands for the fifth time in six years. The game ended with rookie Charles Barkley on top of the Bucks' Ricky Pierce, who was sprawled on the floor with the ball as the Milwaukee crowd celebrated finally surviving the Sixers.
It was the fifth of the seven games that were decided by six points or less, one of which was Philly's 118-112 Game 1 win in which it trailed by 18 points. Unfortunately for the Bucks, they would go on to be swept by Boston in the conference finals.
AP Photo/Rusty Kennedy