6. 2002 WESTERN CONFERENCE FINALS: LAKERS VS. KINGS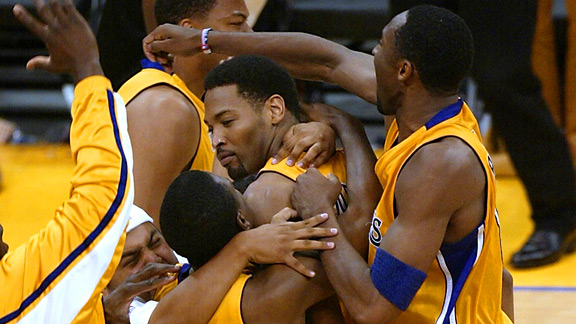 Seven games wasn't enough to decide the 2002 Western Conference finals, but the Lakers finally prevailed in overtime in Sacramento when the Kings kept missing free throws. This classic series had everything -- game-winning shots by Robert Horry and Mike Bibby, a 24-point Lakers comeback in Game 4 to even the series, and the first conference finals or Finals Game 7 road win in 20 years. Even before the Game 7 overtime, the previous three games were decided by a total of six points.
Of course, this series has also become synonymous with scandal because of a 106-102 Laker victory in Game 6 that featured a series of dubious calls in favor of L.A, most notably a late fourth-quarter Kobe Bryant elbow that left Bibby bleeding but drew a whistle against the Kings. The Lakers took 27 fourth-quarter free throws, and by the end Sacramento was guarding Shaquille O'Neal with little-used backup forward Lawrence Funderburke.
Nonetheless, the most crucial moment came in Game 4, when the Lakers capped off a miraculous comeback with Horry's 3-pointer at the buzzer to win 100-99. The Kings seemingly had it won after Vlade Divac tapped a Lakers miss away from the basket area and the clock wound down, only to have the ball go straight to Horry at the 3-point line.
Photo credit: Robert Sullivan/AFP/Getty Images