11. DETROIT PISTONS, 1989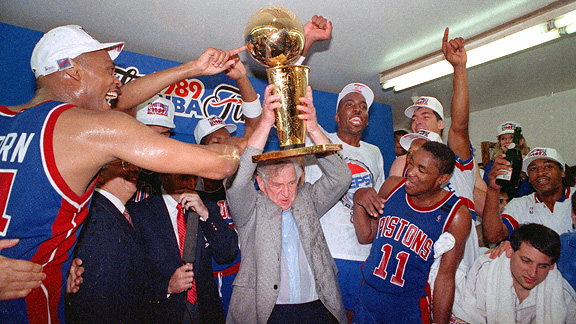 Hollinger's playoff rating: 16.45 | W-L record: 15-2 | Result: Won NBA Finals
The high: Won their final seven playoff games to claim the franchise's first-ever NBA championship.
The low: Lost Game 1 of the Eastern Conference finals at home, and trailed 2-1 before rallying to win the final three games.
The story: I moved the Pistons down a few pegs because the Lakers team they beat in the Finals wasn't really the Lakers -- Magic Johnson hurt his hamstring in Game 1, and Byron Scott didn't play at all. Considering the Pistons won the final three games by 2, 4 and 8 points without those two playing, I think it's fair to say Detroit would have faced a much longer series otherwise.
Nonetheless, we shouldn't discount the fact they were 12-2 in the playoffs before Magic went out. They won Game 1 with Magic on the floor, by a dozen points, and while their competition in the East was hardly overwhelming (victims Boston, Milwaukee and Chicago won 42, 49 and 47 games, respectively), the Pistons dispatched them with clinical efficiency. Michael Jordan's Bulls were the toughest foil, leading Detroit 2-1 through three games in the conference finals, but the Pistons wouldn't lose again.
The Pistons were another team that built on a big second-half push; they were 27-3 in their final 30 regular-season games and, adding in playoffs, closed on a 42-5 run.
Photo credit: AP Photo/Doug Pizac