16. DALLAS MAVERICKS, 2011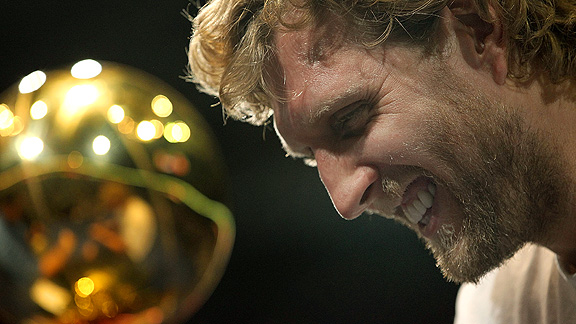 Hollinger's playoff rating: 13.44 | W-L record: 16-5 | Result: Won NBA Finals
The high: Swept the defending champion Lakers in four games in the second round of the playoffs, culminating in a 36-point rout in the clinching Game 4.
The low: Blew a 23-point lead in Game 4 in Portland to tie their first-round series at 2-2. Dallas would win its next seven games.
The story: The Mavs got the bad news out of the way early, blowing a huge lead in Portland to briefly tie their first-round series and awaken the ghosts of their previous playoff failures. From there, however, they were superb. Dallas cruised past Portland, stunned the Lakers in four games and shoved aside Oklahoma City in five. Their sweep of L.A. garnered the fifth-highest score for a second-round series.
Then, in the NBA Finals, they rallied from 2-1 down against a favored Heat team by winning the final three games; they only were in that position because of a comeback of their own, rallying from 15 down in the fourth quarter to win Game 2 in Miami.
While it was often tense -- only one of their 21 playoff games was decided by more than 12 points -- the Mavs were in every game; their worst defeat of the postseason was by a mere eight points. It came against quality opposition too: Their last three victims all won 55 games or more.
Photo credit: Ronald Martinez/Getty Images