21. PORTLAND TRAIL BLAZERS, 1977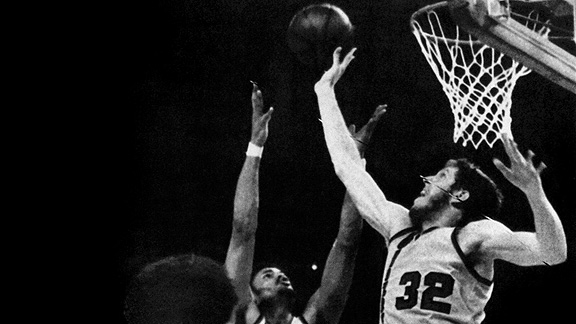 Hollinger's playoff rating: 11.04 | W-L record: 14-5 | Result: Won NBA Finals

The high: A stunning sweep of Kareem Abdul-Jabbar's Lakers in the Western Conference finals.
The low: Dropped the first two games of the Finals in Philadelphia, the second convincingly, before rallying to win the franchise's only title. Philadelphia hadn't had a three-game losing streak the entire season until losing the final four games.
The story: Portland had never won a playoff game before 1977. Like, ever. Between that and their No. 3 seed in the West, the Blazers' résumé didn't exactly scream champion. (Although stat geeks will point out they did lead the league in point differential.)
Portland survived a three-game mini-series with Chicago and then had little trouble with the West's top two seeds, Denver and the L.A. Lakers. The Blazers stole the opener by a point in Denver and went on to win the series in six games. And in the conference finals, Bill Walton simply outclassed Kareem as the Blazers won with shocking ease.
The Blazers seemed on the ropes against the favored Sixers in the Finals after losing the first two, but came home and registered lopsided wins in Games 3 and 4. They grabbed a road win in Game 5, setting up the frenetic final seconds of Game 6 in Portland, when the Sixers missed three chances to tie before the buzzer and a wild celebration ensued in the Rose City.
I moved Portland up the list because there was so much competitive balance in the league at the time; beating three 50-win teams doesn't seem like a big deal, except that the Lakers' 53 led the league. Portland wiped out the teams with the league's three best records en route to the title.
Photo credit: AP Photo
22. LOS ANGELES LAKERS, 2009