26. DETROIT PISTONS, 2004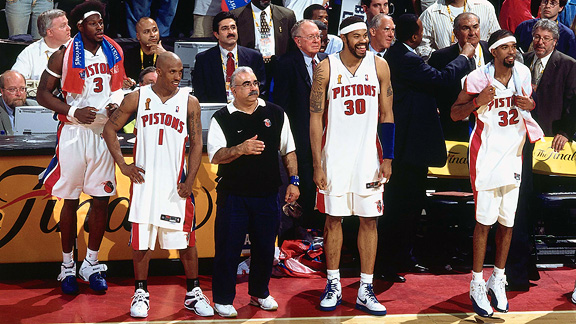 Hollinger's playoff rating: 12.04 | W-L record: 16-7 | Result: Won NBA Finals
The high: Stunned a heavily favored Lakers team in five games in the Finals. Detroit had the third-highest score for a Finals series.
The low: Barely made it past New Jersey in the second round, trailing the series 3-2 after dropping three straight games mid-series, including a triple-overtime marathon at home in Game 5.
The story: The Pistons gained steam as the playoffs went on. They dropped Game 2 at home to a middling Milwaukee team in the first round before rallying with three straight double-digit wins, and they had the fourth lowest second-round score on this list for the New Jersey series -- one which they won with the help of a series of Ben Wallace face-up jump shots in Game 7. (Yes, really.)
Detroit dropped Game 1 of the conference finals before Tayshaun Prince's renowned block of a Reggie Miller breakaway helped the Pistons win Game 2 and gain control of the series. They also took advantage of others' misfortune, which caused me to drop them a couple of spots. Jason Kidd went scoreless for New Jersey in Game 7 and needed microfracture surgery immediately after; Jamaal Tinsley and Jermaine O'Neal limped through the conference finals for Indiana and were dramatically less effective, and Karl Malone's knee prevented him from accomplishing much for L.A. in the Finals.
With Detroit's swarming defense, it may not have mattered. The Pistons blitzed the Lakers by a combined 41 points over the final three games; only an overtime defeat in Game 2, aided by a last-second Kobe Bryant 3 in regulation, prevented a sweep.
David Sherman/NBAE/Getty Images
27. HOUSTON ROCKETS, 1995