31. SAN ANTONIO SPURS, 2003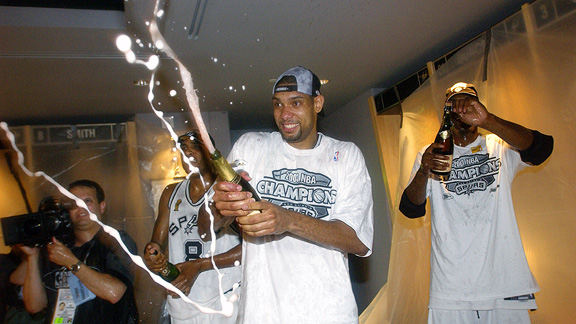 Hollinger's playoff rating: 10.76 | W-L record: 16-8 | Result: Won NBA Finals
The high: Crushed the three-time champion Lakers 110-82 in Game 6 of the Western Conference semifinals to end their title reign.
The low: Lost twice in the first four games of the first round to a 44-win Phoenix team, both times in the final seconds.
The story: The Spurs set what was then a record for playoff defeats by a champion, losing two games in every round before ultimately coming away with the title. They still clock in at No. 31 because five of the defeats came by three points or fewer, including one that was unintentionally banked in at the buzzer by Phoenix's Stephon Marbury, while 10 of their wins came by double figures.
They also embarrassed the three-time champion Lakers by 28 points to knock them out in the conference semis, recovering from a near-choke of their own when the Lakers missed a go-ahead 3-pointer in the final seconds of Game 5.
In the Finals against New Jersey, the Spurs lost two more close games and seemed headed toward a third before a mammoth 19-0 run in the fourth quarter of Game 6 sent David Robinson into retirement a champion. Tim Duncan, dominant all series, fell two blocks short of a quadruple-double.
To get there, the Spurs had to outlast Dallas in the conference finals, despite losing both Game 1 and Game 5 at home. A knee injury to Mavs star Dirk Nowitzki greased their path, but the Spurs didn't prevail until a memorable outburst of 3-pointers by little-used Steve Kerr fueled a comeback win in the clinching Game 6.
Photo credit: Ezra Shaw/Getty Images