36. LOS ANGELES LAKERS, 2010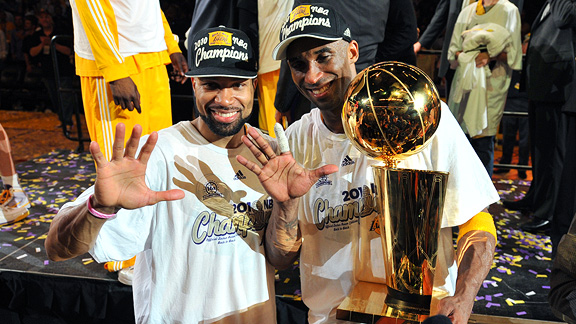 Hollinger's playoff rating: 9.81 | W-L record: 16-7 | Result: Won NBA Finals
The high: Came back from a 13-point third-quarter deficit in Game 7 of the Finals against Boston to win their second consecutive title.
The low: Lost six road games, including a 21-point pasting by Oklahoma City in the first round that tied their series at two games apiece.
The story: The Lakers swept Utah in the second round, but otherwise it was a fairly rocky road to a second straight championship. L.A. found itself tied 2-2 in the first round with the Thunder and needed a last-second Pau Gasol tip-in to avoid a seventh game. The conference finals against Phoenix offered similar drama; again they dropped consecutive road games to fall into a 2-2 tie, but this time the last-second putback came in Game 5, courtesy of Ron Artest.
L.A. seemed to have the upper hand against Boston in the Finals, winning the opener comfortably, and even when the Lakers dropped Game 2 they immediately took the third game in Boston to regain home-court advantage.
However, the Celtics won the next two, and the Lakers found themselves in Game 7 down double figures; worse, they had an ice-cold Kobe Bryant. Second shots would be their salvation yet again; Gasol grabbed nine of L.A.'s 23 offensive boards, the last off a Bryant miss that prevented Boston from trying a game-tying 3, to secure a repeat title.
Brian Babineau/NBAE/Getty Images
37. LOS ANGELES LAKERS, 2008