41. SEATTLE SUPERSONICS, 1979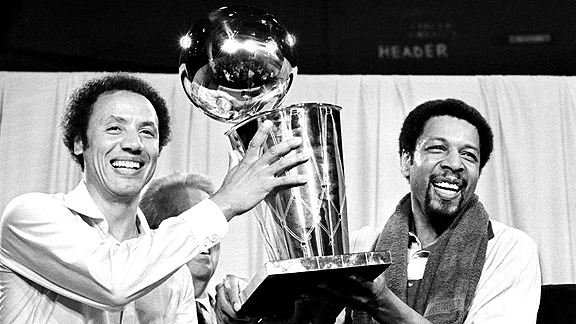 Hollinger's playoff rating: 8.77 | W-L record: 12-5 | Result: Won NBA Finals
The high: Shook off their ghosts of a year earlier by winning four straight games to defeat the Bullets in the Finals for the franchise's only championship.
The low: Lost three straight games to Phoenix in the Western Conference finals before recovering to advance in seven games.
The story: The competitive balance of the late '70s works against the Sonics; the 54-win Washington team they beat in the Finals had the league's best record, and the Phoenix team they topped in the Western Conference finals was the only other 50-win team. I moved them up two spots to adjust for that.
Seattle lost Game 1 of the Finals on two last-second free throws by Washington's Larry Wright, but rebounded to win the final four games with relatively little drama, including two road wins.
The Sonics had a much harder time with Phoenix in the Western Conference finals, one of the most prominent entries in the Suns' voluminous "ones that got away" file. Despite an injury to star center Alvan Adams, Phoenix won Game 5 in Seattle to take a 3-2 series lead, but the Sonics went to the desert and took Game 6 by a point. In the seventh game, the Sonics nearly blew an eight-point lead in the final 20 seconds with a succession of ridiculous backcourt turnovers, but hung on to advance to a second straight Finals.
Photo credit: AP Photo