46. HOUSTON ROCKETS, 1986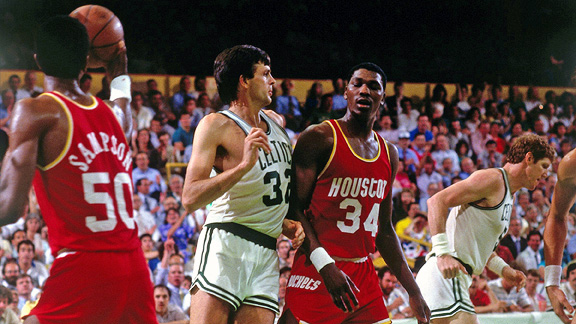 Hollinger's playoff rating: 8.38 | W-L record: 13-7 | Result: Lost NBA Finals
The high: Ralph Sampson's impossible, spinning midair catch-and-shoot that bounced around the rim and in at the buzzer to beat the Lakers in Game 5 of the Western Conference finals, completing Houston's upset win.
The low: Sampson's scoring eight points while receiving catcalls in Boston Garden in a blowout elimination loss in Game 6, after he'd fought with Boston's diminutive Jerry Sichting in Game 5.
The story: Well, they kept things exciting. The Rockets played two overtimes and had four other games decided by three points or fewer in their playoff run, most notably the clinching Game 5 in L.A. in the West finals. That win was their fourth straight after losing the opener to the top-seeded and heavily favored Lakers by 12.
Houston's first two rounds went more easily. The Rockets dispatched an overmatched Sacramento team in three and beat Denver in six games, routing the Nuggets twice but losing a pair of nail-biters in Denver in the middle two games.
In the Finals, Houston was overmatched by Boston, losing all three road games by double figures but holding on twice at home to extend the series to six games. It was the closest they'd get for nearly a decade.
Photo credit: Dick Raphael/NBAE/Getty Images
47. DETROIT PISTONS, 1987