6. BOSTON CELTICS, 1986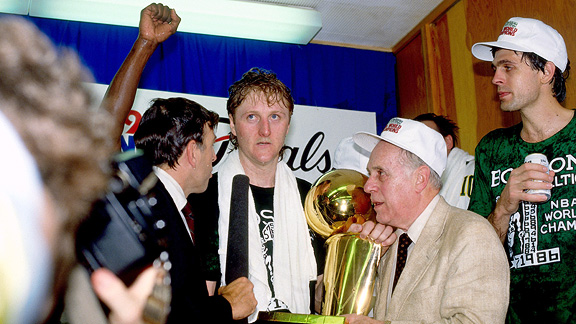 Hollinger's playoff rating: 12.48 | W-L record: 15-3 | Result: Won NBA Finals

The high: A seven-game playoff win streak that included six double-digit wins and a pair by more than 30 points; included in that stretch was a four-game annihilation of Milwaukee in the Eastern Conference finals that was the third-highest scoring conference finals series in the database.
The low: Nearly lost a first-round game at home to a lowly No. 8 seed, when some guy on Chicago named Michael Jordan gave everyone notice of what was coming around the corner by scoring 63 points in a double-overtime Boston win.
The story: This was the best team of the Bird Era, but there aren't a lot of riveting memories from the playoff run because they so efficiently dismantled their opponents, and because the Rockets upset the Celtics' rivals from L.A. to earn a place in the Finals. Larry Bird's go-ahead 3-pointer late in the fourth quarter of Game 4 against Houston was the closest thing to a white-knuckle moment, draining any remaining mystery from the series after the Celtics had punted a late nine-point lead in Game 3.
Their best moment came from an opponent (the Jordan game), so it's best to appreciate the total body of the work. The Celtics won every other home game -- besides the heroic one from Jordan -- by double digits, humiliated a 57-win Milwaukee team in the conference finals, and won 11 of their 18 playoff games by double figures.
Throw in a hot finish to the regular season and the Celtics went 32-5 in their final 37 games to cement one of the great seasons in league annals.
Photo credit: Dick Raphael/NBAE/Getty Images
7. LOS ANGELES LAKERS, 1985