11. 1980 WESTERN CONFERENCE SEMIFINALS: BUCKS VS. SONICS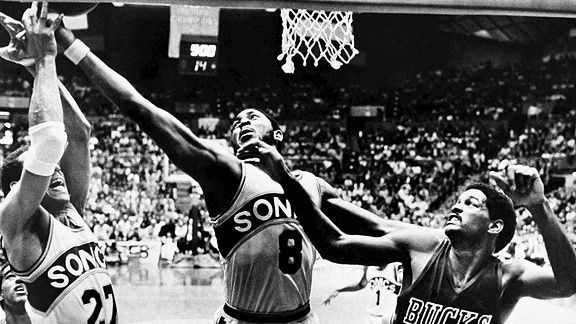 In terms of pure competitiveness, it's tough to beat this series. It's the only matchup since the merger in which six of the seven games were decided by five points or fewer, and it also matched up the two current leaders in coaching wins, Don Nelson and Lenny Wilkens.
Both Games 1 and 2 went to overtime; the Sonics won the opener on a desperate 3-point heave by Dennis Johnson with one second left, but the road team would win four of the next five games. That includes the one "laugher" in this series, Milwaukee's 108-97 Game 5 win, which was played before then the largest crowd in NBA history (40,172) in Seattle's Kingdome.
But the Bucks' 3-2 lead on the defending champs wouldn't hold. Milwaukee dropped the final two games by a total of five points and blew a fourth-quarter lead in the finale.
Photo credit: AP Photo/Grant M. Haller