26. 1992 NBA FINALS: BLAZERS VS. BULLS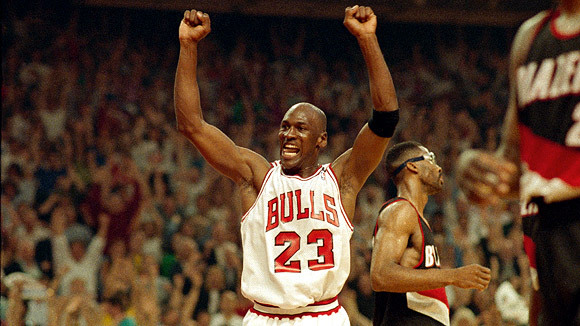 A somewhat forgotten series in the first Chicago trilogy, this one is most well-known for the "Jordan shrug" after Mike torched Portland for a Finals-record 35 points, including six 3-pointers, in the first half of Game 1. However, the series wasn't decided until Jordan's supporting cast made an amazing rally in Game 6, also known as the second-most-famous blown 15-point fourth-quarter lead in Blazers history. Chicago's subs shaved 12 points off the lead in just three minutes while Jordan rested up for a presumptive seventh game, and then he came back in the game and finished off the Blazers from there, 97-93.
An earlier turning point came when the Blazers rallied from a 10-point deficit in the last five minutes of Game 2, even though star guard Clyde Drexler had fouled out, with a technical foul on Jordan providing the impetus and the Blazers winning in overtime behind Danny Ainge. The Blazers also rallied from 13 down to even the series at 2 in Game 4 before Jordan's 46 points in Game 5 put the Bulls in command.
Photo credit: AP Photo/John Swart