46. 2004 EASTERN CONFERENCE FINALS: PISTONS VS. PACERS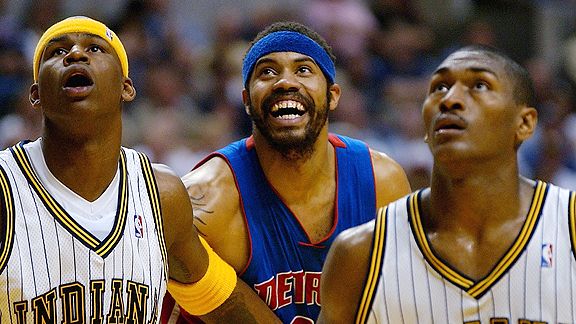 Type "Pacers Pistons 2004" into a search engine and you'll get a hundred pages about a brawl before you ever read about the playoffs. But six months prior to their unfortunate fight these two squared off in a classic defensive playoff matchup.
This series is a bit of a rarity, because its turning point and defining play -- Tayshaun Prince's out-of-nowhere rejection of Reggie Miller's go-ahead layup attempt -- came early, in Game 2. It was a symbolic moment for one of the most dominant defensive teams in history, and that, along with an amazing 18 more rejections that day, helped Detroit to a 72-67 win.
The Pistons would hold the Pacers to under 70 twice more, helping them win the lowest-scoring series in playoff history. But while it lacked in points, it didn't lack in drama. Four of the six games were decided by five points or fewer, including Miller's go-ahead 3 with 31 seconds left in Game 1 and a 69-65 brickfest in the clincher that turned when Ron Artest flagrantly fouled Richard Hamilton off the ball late in the fourth quarter.
Photo credit: Jonathan Daniel/Getty Images