6. TIM DUNCAN, SPURS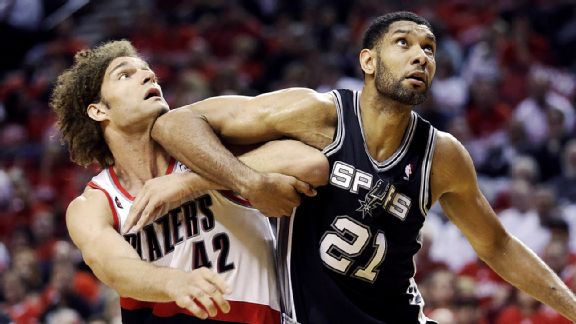 2014 POSTSEASON STATS
He does not have LeBron's explosiveness or gaudy stats, but don't underestimate how important Duncan is as a leader of men or his impact on his team's defensive strategies.
Duncan is still brilliant with his footwork and timing on the defensive end, a big part of why he can average more than 32 minutes a game against the Trail Blazers and never pick up more than three fouls in a game. His ability, along with Tiago Splitter's, to guard scorers without requiring help or picking up fouls is the biggest reason San Antonio takes away open 3-pointers.
Though it was Leonard who stepped up the biggest in Parker's absence in Game 5, Duncan helped considerably in the first and third quarters while providing his key leadership to ensure his team stayed on task.
(Previous rank: 9

)
Photo credit: AP Photo/Rick Bowmer