6 & 7. RUSSELL WESTBROOK AND KEVIN DURANT, THUNDER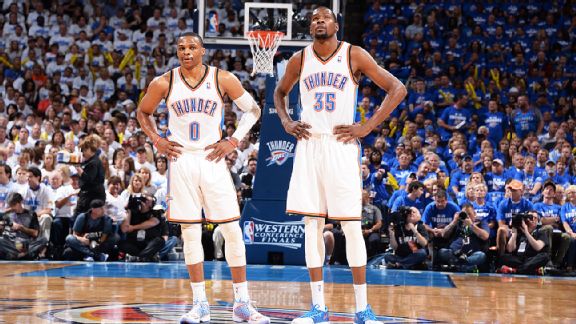 2014 POSTSEASON STATS (WESTBROOK)
2014 POSTSEASON STATS (DURANT)
The narrative on Westbrook is still the same. He's an elite-level player who might not be the best complement to Kevin Durant, the world's second-best player. But "might not" is the key phrase. Because until Durant plays next to a different, elite-level player at guard, how can anyone really know?
This is the problem facing the Thunder brass. Right now this team is very similar to the "Seven Seconds or Less" Phoenix Suns, who were one of the sexiest and winningest franchises in all of sports when they were at their best, but were broken up because it was deemed they couldn't win a ring as currently constructed. In retrospect it was a mistake.
Why would ownership break up a team that routinely won 55-60 games and had incredible star power to offer to fans every night? Just so they could "guarantee" a title or two? It's an absurd notion, thanks to a few other super teams that will do all they can to beat the Thunder. There are no moves available that assure a title, or even a top seed (which the Thunder had last season), yet the risks are there to drop down a rung or two thanks to the exceedingly competitive and yet still improving West.
Westbrook combined skill, craft, heart and hustle in an excellent postseason run, especially later in the playoffs. Durant had a dozen amazing moments and carried his team seemingly on his own a few times, yet was not a factor when the Thunder had to have him to survive. Breaking up this duo has never sounded so smart, yet it is a move full of desperation that has the potential to be a complete failure.
(Previous rank: Westbrook 4

| Durant 5

)