How wild was this NBA offseason? The LA Clippers are suddenly the title favorites. Now that's a sentence I didn't think I'd be writing six months ago when the Golden State Warriors owned the league and the Clips were just overachieving underdogs.
Then July happened, superstars changed teams and suddenly the NBA landscape was completely different. Instead of one superteam in the Bay Area, the league now is full of exciting duos fighting for pro basketball supremacy.
Let's examine six of the most intriguing duos -- some old, some new -- breaking down how they fit and what their biggest questions are entering the season.
---
LA Clippers: The illuminati wings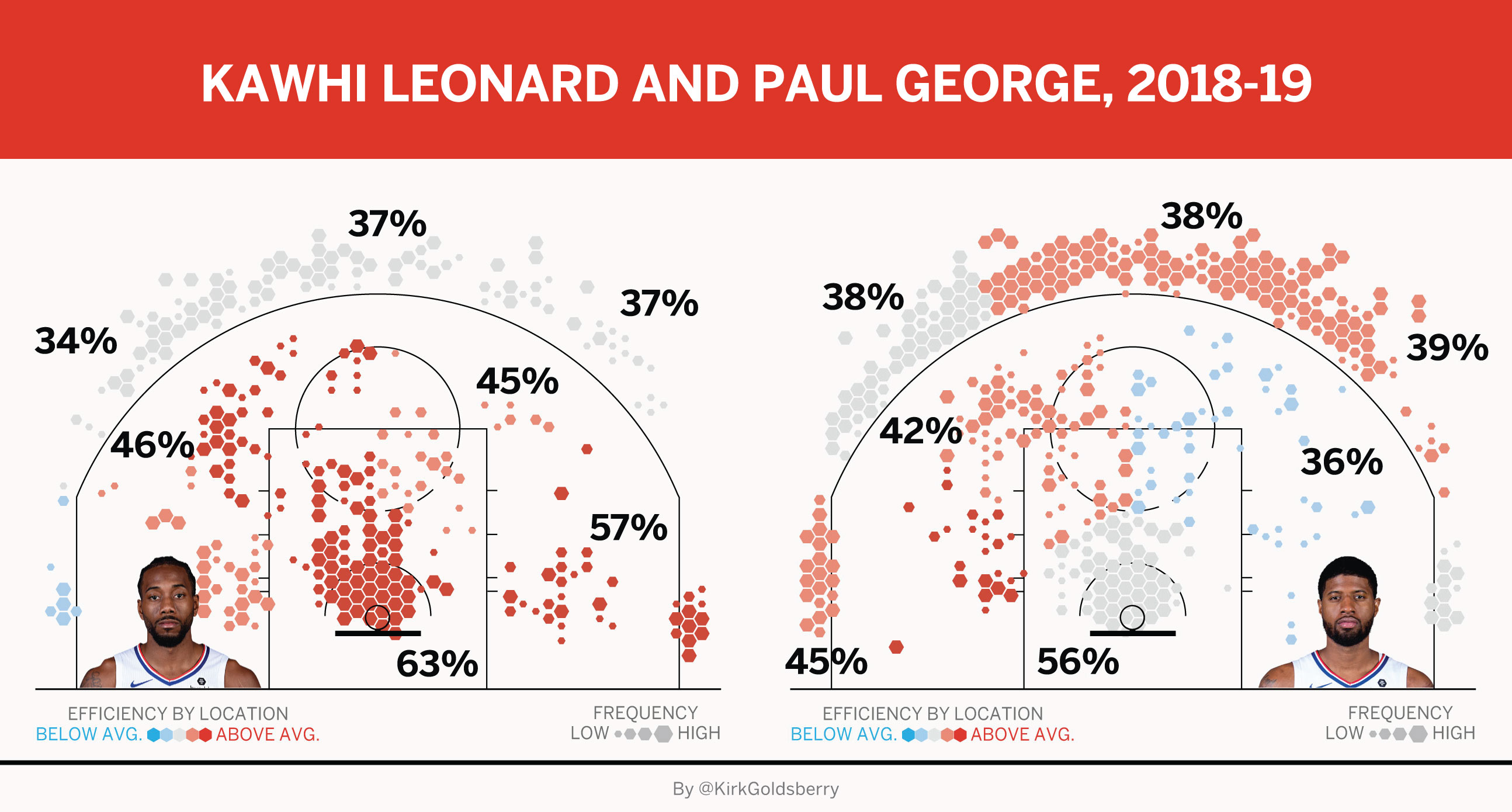 Kawhi Leonard | F | NBArank: No. 2
Paul George | F | NBArank: No. 10
We'll start with the favorites.
Leonard and George are both back home in Southern California, and they immediately make the Clippers the team to beat. In an era when superstar wings seem to be the most important assets in the league, the Clippers will have two of the best when George returns from offseason shoulder surgery.
Why it works: George and Leonard are both phenomenal two-way players squarely in their primes who can score, defend and dominate games in different ways. On offense, these guys can get buckets effectively on all three levels: in the paint, in the midrange and beyond the arc. Leonard is a better 2-point scorer and George is better from downtown, but both are formidable everywhere. Last year, these dudes combined to score a cool 54.6 points per game at an efficient clip.
But the scariest thing about this duo is on the other end of the floor, where these stoppers will join up with Patrick Beverley to immediately form the most ferocious perimeter defense in the NBA.
Virtually every legitimate NBA contender features a dominant scorer (James Harden, Stephen Curry, LeBron James, Giannis Antetokounmpo), and Doc Rivers will have multiple defensive rock stars ready to stifle all of them. We saw this effect last season as Leonard derailed Antetokounmpo in the Eastern Conference finals. The fact that Paul George will be the second-best wing defender on the team says all you need to know.
Biggest question: Interior play
The Clippers' frontcourt is dicey, and there's major Peter Principle potential with the bigs. JaMychal Green, Ivica Zubac and Montrezl Harrell each have played well in limited roles coming into this season, but one or two of them must thrive under more pressure now. Can they do it?
Despite the decreasing relevance of bigs in the NBA, rebounding and rim protection remain among the most important jobs in the game. Can we really trust Zubac & Co. to get those jobs done in huge games against guys such as Nikola Jokic, Rudy Gobert, Draymond Green and Anthony Davis in May and June?
At the peak of their powers, Leonard and George can help here by shutting off driving lanes and protecting their bigs.
Key stat: Defensive efficiency
The last time Rivers won an NBA title, it was because of an incredible defense. The 2007-08 Boston Celtics ranked first in the NBA in defensive rating. Last season, the Clippers ranked 19th in this key metric. That's not good enough.
If Leonard and George remain healthy and the bigs can at least be passable, this Clippers team has the potential to be incredible defensively. But potential doesn't get stops, and it certainly doesn't win in June. To win it all, the Clips need to be a top-five defense.
---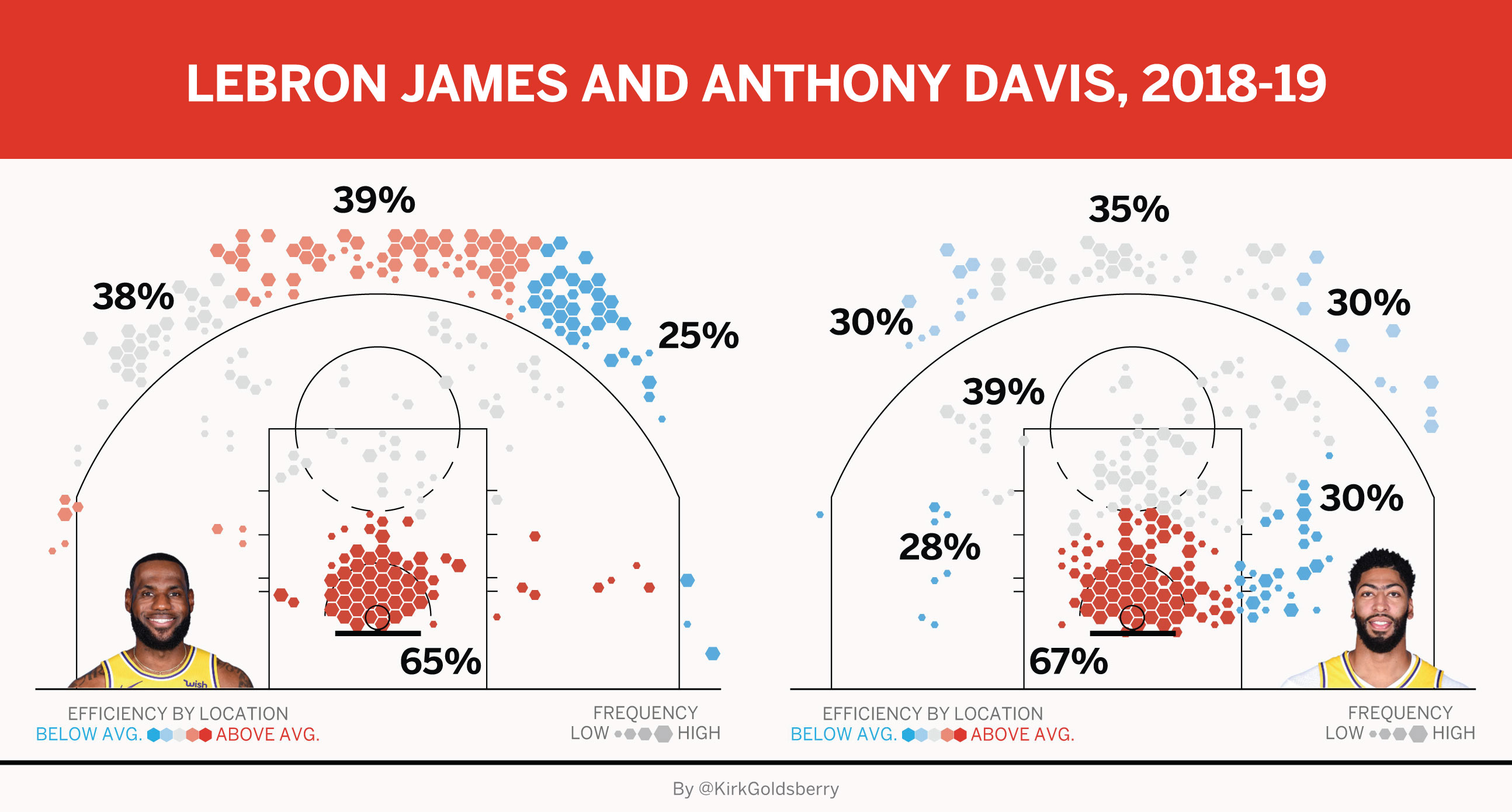 LeBron James | F | NBArank: No. 3
Anthony Davis | F/C | NBArank: No. 5
Say what you want about the Lakers' front office, but there's no denying that amid a backdrop of chaos and disorder, it still managed to turn a lottery team into a contender. After all, over the past 16 months, this front office has made two clutch acquisitions: James and Davis. Not too shabby.
Why it works: Folks, is there a more terrifying pick-and-roll combination on planet Earth?
With James at the controls and Davis popping/rim running, this team is bound to turn the most ho-hum action in basketball into a highlight machine. We're about to watch two top-10 players make themselves even better.
The James-Davis pick-and-roll is offensive efficiency in a can. It frequently will lead to lobs, perfect pocket passes, open jumpers and frustrated defenders. More than any other duo in the league, this one meshes the most on the floor. The Lakers' two-man game should immediately become the centerpiece of a top-10 offense.
Davis and James are among the best paint scorers in the world. In case you think that's an exaggeration, check this out: James and Davis ranked No. 1 and No. 3, respectively, in points in the paint in 2017-18. They're like the Splash Brothers turned inside out. But unlike that duo, these fellas can struggle to hit jumpers. Here's a concerning stat:
Out of 128 players who took at least 350 shots outside the paint last season, Davis ranked 126th in efficiency, logging a measly effective field goal percentage (eFG%) of just 40.4%, per Second Spectrum tracking.
Davis has struggled to evolve into a reliable shooter. James has become decent, but make no mistake, these dudes are interior forces, and that's why it's imperative to surround them with sharpshooters. And that brings us to our ...
Biggest questions: Shooting and coaching
• Who will space the floor? Danny Green is awesome, but he's only one man. Aside from him, it's unclear how the Lakers will create space in important moments. Can you count on Kyle Kuzma, Avery Bradley, Kentavious Caldwell-Pope and Alex Caruso to give LeBron and AD enough room to work? Unless the Lakers find shooting elsewhere, their opponents can afford to pack the paint to protect the rim against James and Davis. And, uh, it looks like spacing might be an issue.
• Also, coaching changes matter. In the past five years, both Steve Kerr and Mike Budenholzer have taken new jobs and immediately turned their new squads into contenders. The Lakers are hopeful Frank Vogel, Jason Kidd and Lionel Hollins can do something similar, but they're facing immediate pressure.
Can this hodgepodge of commanders even coalesce into a coherent unit, let alone coach James and the Lakers? Time will tell. Last season, the Lakers paired the 24th-best offense in the league (yuck!) with its 13th-best defense. This team needs to get better on both ends of the court, and a lot of that comes from coaching.
There's no question that there's a championship needle buried somewhere in this purple-and-gold haystack. Can Vogel's group extract it? That will go a long way in determining how successful this duo is in Year 1.
Key stat: Games played
The best ability is availability, and last year this duo combined to miss 53 games. James just had his most restful offseason in years, but he'll turn 35 in December. If either guy misses considerable time, it's hard to see the Lakers near the top of the unforgiving Western Conference table.
---
Philadelphia 76ers: The Process babies enter their primes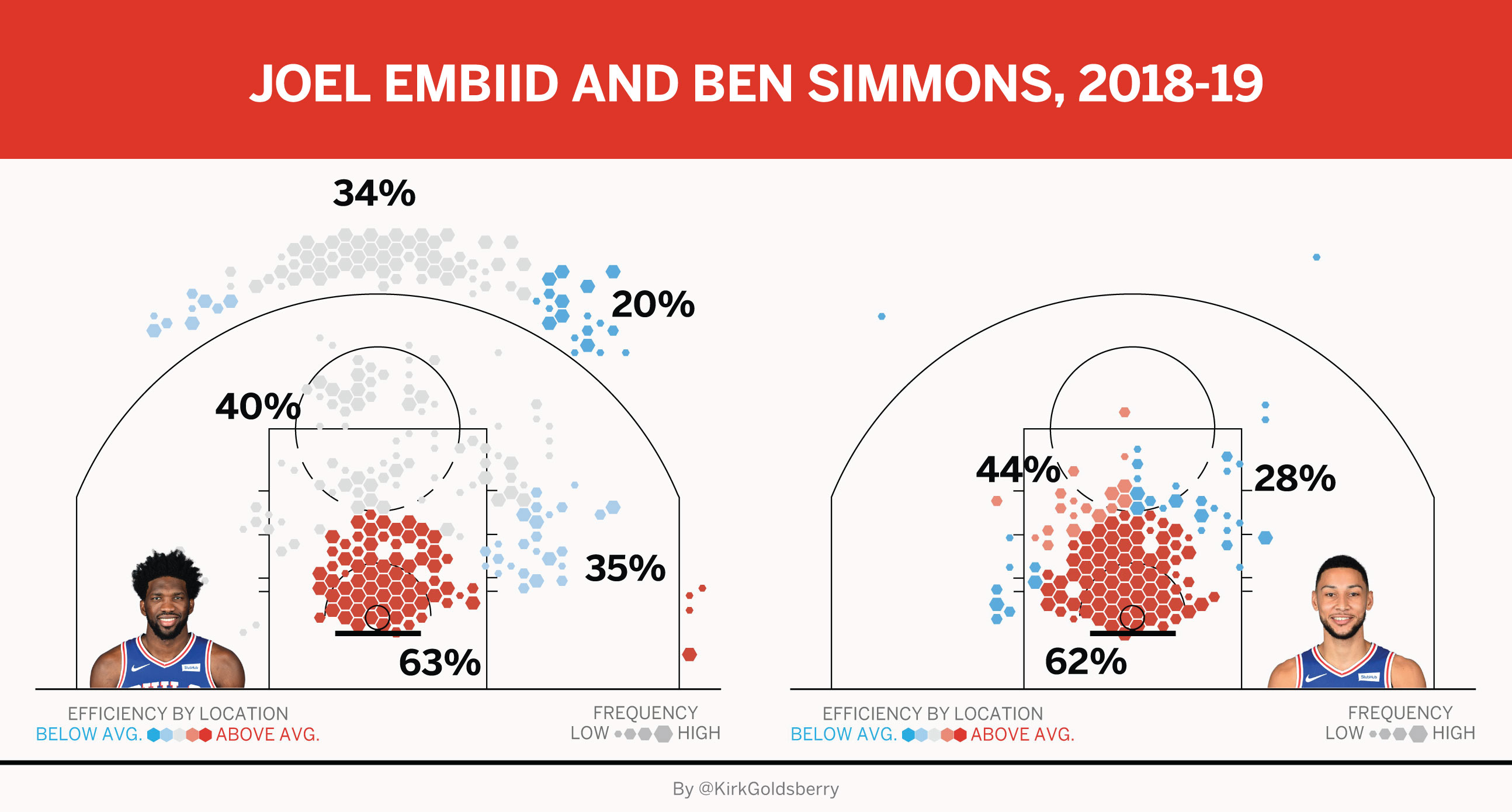 Joel Embiid | C | NBArank: No. 8
Ben Simmons | PG | NBArank: No. 15
At 25, Embiid is the best two-way big man in the sport, while 23-year-old Simmons remains an enigmatic phenom who has yet to really figure it out. In this sense, Simmons is more of the microcosm of the Sixers at-large: undeniable potential with legitimate question marks, especially on offense.
Why it works: Quite simply, it's just the magnitude of talent, given their youth
Simmons and Embiid represent two huge cornerstones in the Sixers' impressive foundation. With Simmons locked up at the 1 and Embiid at the 5, this duo sets up Philly for relative success for years to come. Both players excel on each end of the court and both make the players around them look better. Ultimately, though, this team's success will depend on what the front office puts on top of its prized cornerstones.
Simmons and Embiid are unique pieces to build around, including some glaring limitations. You can't just plug in anybody around them and expect to hoist trophies, which brings us to the biggest question about Philly's young foundation.
Biggest question: Shooting, shooting, shooting
Last season, the average NBA team made 11.4 of 32.0 3-point tries per game. As a duo, Embiid and Simmons combined to yield just 1.2 made treys on 4.2 attempts (with Simmons attempting only six 3s all season). In a league quickly approaching a 40% 3-point rate, the fact that Philly's young duo combines to take just 12% of their shots from deep places a disproportionate perimeter burden upon the other dudes around them.
For the Sixers at-large to even become a mediocre 3-point outfit, the supporting cast -- now without JJ Redick, by the way -- must overcompensate. This roster isn't built for that. There are no Danny Greens or Brook Lopezes or Eric Gordons here. Most of Philly's best supporting actors are more comfortable inside the arc than outside of it. Where are all of the 3s going to come from?
Many people expect Josh Richardson to be a big part of that answer, but this guy has never hit more than 2.2 3s per game in his young career. Even if he doubles that number, the Sixers still have to find career-best 3-point productivity elsewhere on the roster.
Guys such as Al Horford and Tobias Harris will contribute a few 3s per night, but not much more than that. Either a few rotation players such as Furkan Korkmaz or Mike Scott will have career years from downtown or the Sixers' 3-point offense will be anemic and the front office might have to import additional shooting midseason.
Key stat: Ben Simmons' 3-point assists
Simmons is one of the best 3-point creators in the league. Last season, he ranked third in the league in total 3-point assists with 260, per Second Spectrum, but most of those went to shooters who have left town. If Simmons can develop chemistry with Richardson, Harris and Horford, the 3-point engine could be strong enough to carry Philly to the Finals.
---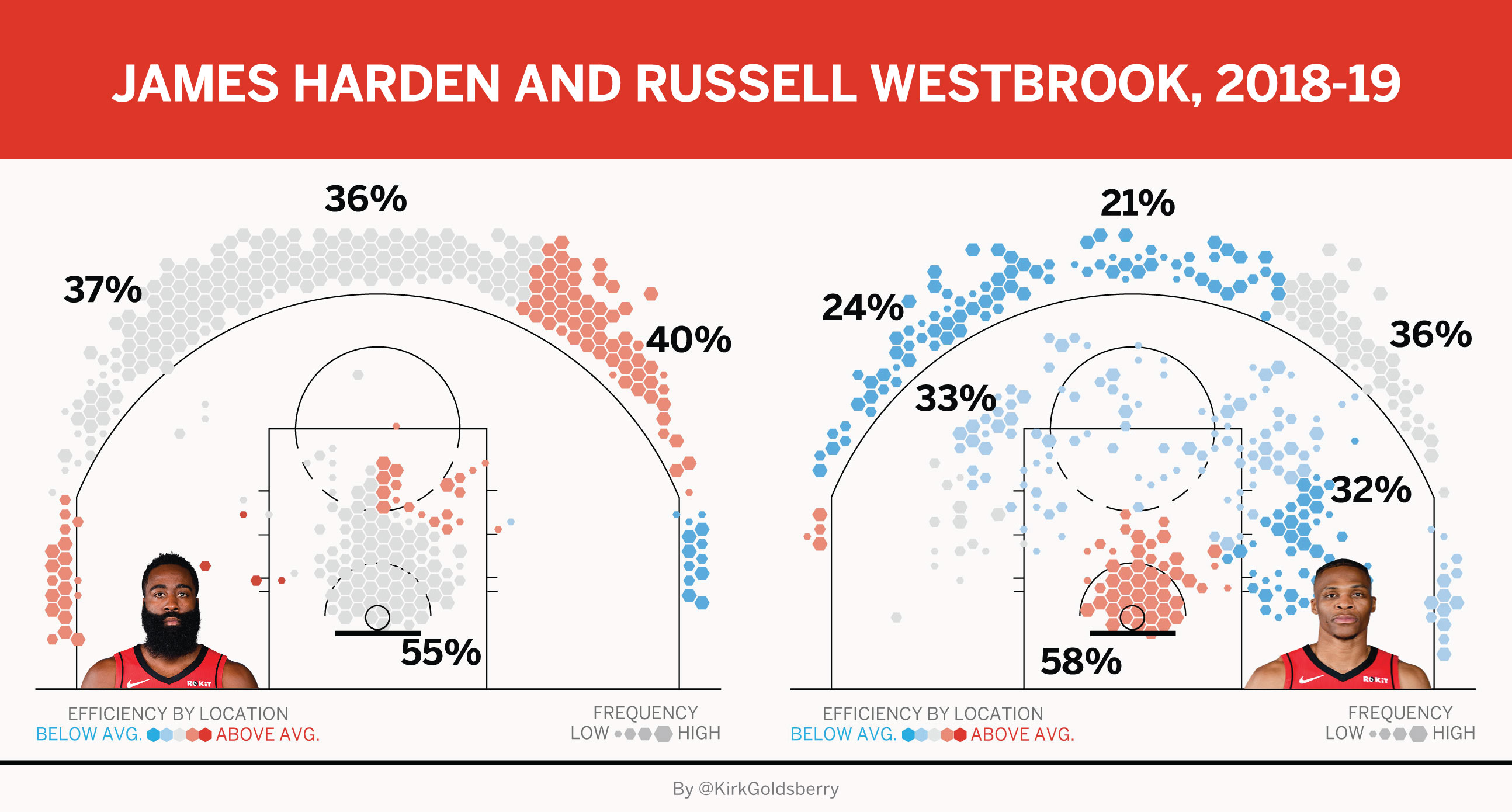 James Harden | G | NBArank: No. 4
Russell Westbrook | G | NBArank: No. 12
The Rockets spent the summer rearranging their roster and their coaching staff.
They have an undeniable system built for racking up regular-season wins. After swapping Chris Paul for Westbrook, they now find themselves trying to make sense of one of the NBA's most confounding talents and how he fits next to their franchise player.
Why it works: The beard and the 'stache
Mike D'Antoni and Harden are two of the NBA's smartest offensive minds. If there's any pair of leaders who can assimilate Westbrook into the fold, it's this combo.
Biggest questions: Russ and a lame duck D'Antoni
• Look, there's no question that Westbrook is among the most talented and capable guards in the game right now. But it's fair to question if he can adjust his game to become a complementary part of Rocketball. The mantra in Houston is efficiency at all costs, and off-ball guards in D'Antoni's system must be able to shoot from distance and keep turnovers to a minimum. If Westbrook can channel his energy into improving his shot and reducing his turnovers, this is going to work out just fine. If he remains insistent on pairing high usage with low efficiency, this might get ugly.
• In normal conditions, D'Antoni is the perfect coach for this wacky experiment. But Houston's coaching conditions aren't normal right now. Not only are most of D'Antoni's lieutenants from last year gone, management also failed to extend his contract. Is he happy? Is he motivated? Does he have his eyes on his next gig? Who knows, but the answers to those queries will have a major impact on this duo's eventual outcome.
Key stat: Westbrook's 3-point shooting
Over the past three seasons, Westbrook has converted just 31.6% of 1,305 3-point attempts. He's bound to get better looks in Houston. Here's the thing, though: Westbrook has struggled to convert even the juiciest looks from downtown.
Out of 128 players with at least 100 open catch-and-shoot tries over the past three seasons, Westbrook ranks 119th in efficiency, sinking just 32% of those golden opportunities, according to Second Spectrum. For context, Steph Curry ranks first at 54.7%. Russ doesn't have to be as good as Curry, but he needs to be as good as, like, Andrew Wiggins (38.6%).
---
Toronto Raptors: The defending champs, down a claw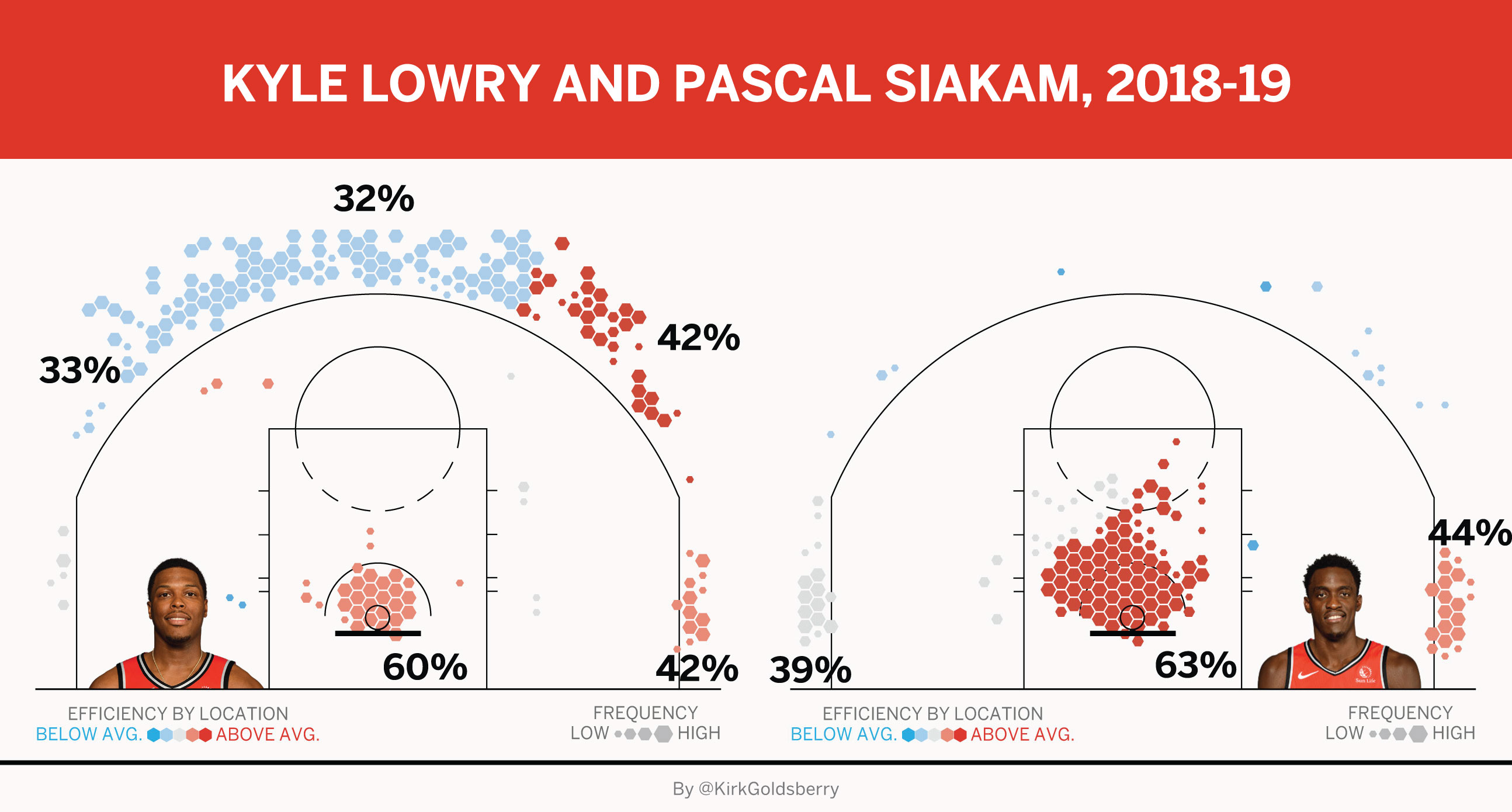 Pascal Siakam | F | NBArank: No. 22
Kyle Lowry | PG | NBArank: No. 39
The defending champs enter this season without Finals MVP Kawhi Leonard, but they do have two huge pieces coming back that both just got paid. How close can Lowry and Siakam get to leading this team back to the promised land?
Why it works: Check the tapes
People forget that Toronto won 59 games in 2017-18, before Kawhi even got there. This team is deep and well-coached. With Lowry running point and Siakam emerging as a legitimate star, Toronto is still equipped to be one of the top two-way squads in the East.
Biggest question: Defense
Losing Leonard and Green hurts -- just ask the San Antonio Spurs. Their defense went from fourth best in the league in 2017-18 to 20th last year, thanks in large part to the departures of those two defenders. After ranking fifth in defense in 2018-19, can Toronto absorb these two massive departures and maintain a top-10 unit?
Key stat: Siakam's points per game
If Spicy P can score 25 PPG and continue to improve his efficiency, then the Raptors' offense will be in perfectly fine shape. If his production regresses under increased attention, Toronto may have trouble scoring overall.
---
Golden State Warriors: Still splashy after all these years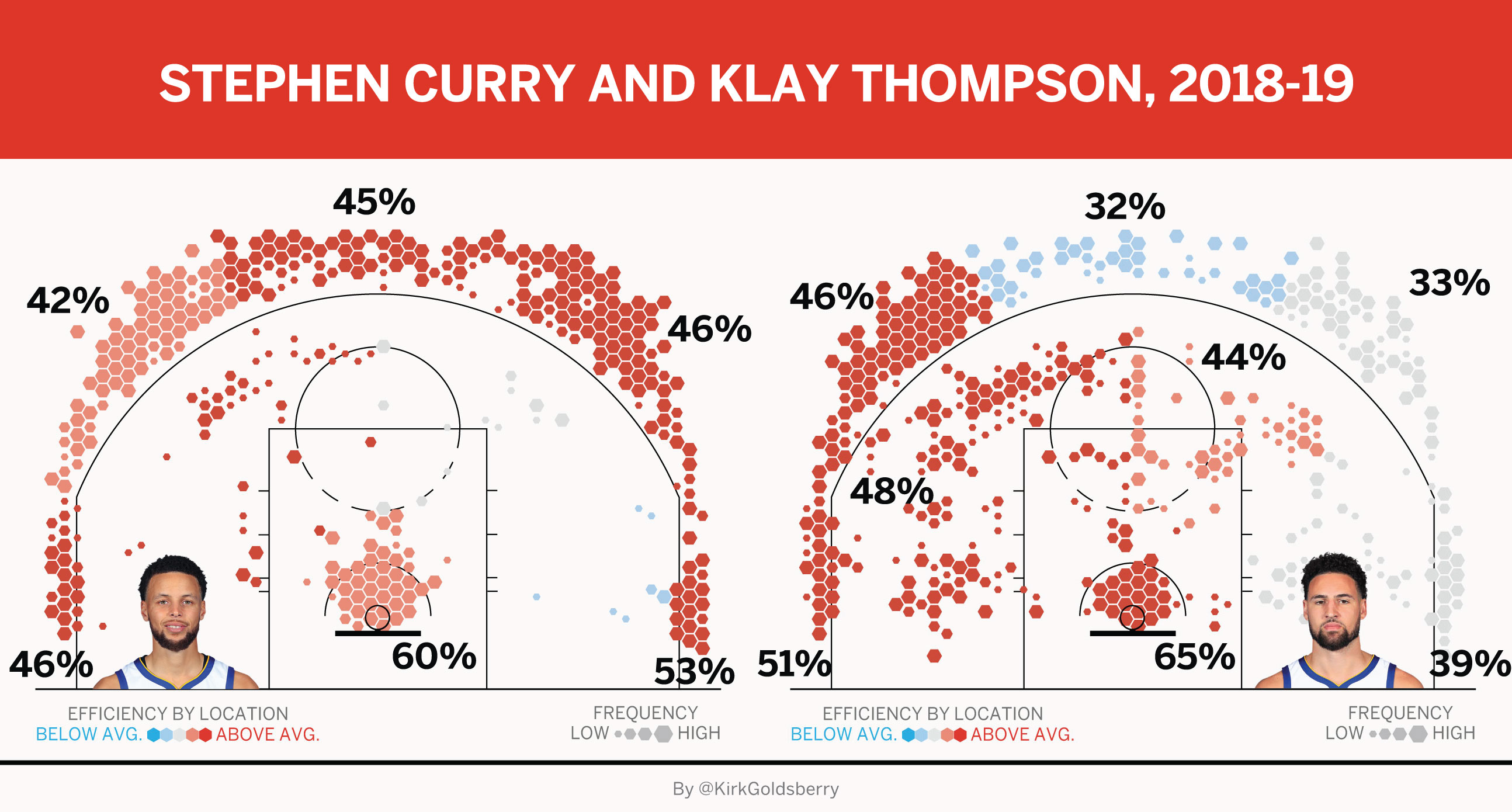 Stephen Curry | PG | NBArank: No. 6
Klay Thompson | SG | NBArank: No. 49
The Warriors have the potential to be the scariest playoff underdog in decades. It all comes down to Thompson's ACL rehab. If he can return to form this spring -- and that's a big if -- and the Warriors are in the playoff hunt, look out.
With all due respect to the hot new duos across the West, nobody wants to see the Splash Brothers in a seven-game series.
Why it works: Duh, shooting
The best shooting backcourt of all time finds itself playing in an era obsessed with shooting. The supporting cast is questionable, but these dudes bring inevitable buckets at full strength.
Biggest question: How will D'Angelo Russell fit into this puzzle?
Steve Kerr figured out how to unleash the Splash Brothers. Can he also let Russell realize his potential while helping him fit into the Golden State offensive ecosystem?
Key stat: Simple: The Warriors have won the West five years in a row
Come and take it.