After launching the Big Man Barometer last week with our preseason rankings of big men across the league, today we remain in ad hoc mode. After all, we have just two nights and 11 games in the books.
But that doesn't mean there aren't storylines already emerging, even if we can't yet look at them from a league trend standpoint.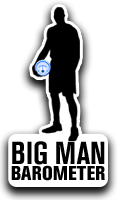 This week's top performances are based on simple box score lines and have been compiled using John Hollinger's Game Score metric. Going forward, we're going to be using a version of WARP that is based on play-by-play data, but we can't calculate WARP until every team has played a game because of the necessity for league averages. So we're winging it a bit this week.
Our exclusive schedule-adjusted projections are already pretty much in the form that you'll see for the rest of the season. Using a combination of SCHOENE forecasts and season-to-date data, we'll be predicting the weekly numbers for NBA big men based on a Monday-to-Sunday schedule that should be compatible with the vast majority of weekly head-to-head fantasy leagues. By this method, SCHOENE is combined with actual results to product a baseline forecast for each player. These are then adjusted for a player's upcoming opponents and how well those competitors have defended his position. This is another case where we don't have enough real data to work with, so the first group of weekly projections is based entirely on SCHOENE and last season's positional data.
The projections are compiled in a module of NBAPET, my system for projecting, evaluating and tracking the league. The Big Man Barometer will run every Thursday.
With a short week, here are the top 10 big men for Oct. 30-31 and their Game Score for this week: