The Big Man Barometer is rounding into regular-season form as all components of the system are in place. The Barometer tracks the usage and performance of frontcourt players across the NBA, and forecasts how they're going to do in the coming week. (For a complete explanation about our metrics and analysis, click here.)
Next week, we'll start keeping tally of the top performers for the season as a whole and track them against preseason projections. Other than that, everything in today's edition will be as such for the rest of the campaign. (We'll be predicting the weekly numbers for NBA big men based on a Monday-to-Sunday schedule that should be compatible with the vast majority of weekly head-to-head fantasy leagues.)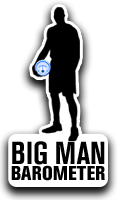 The big difference in the process this week is that positional data has been calculated from the play-by-play of each game. Each player in the league is assigned a "true position" that is based on the last three years of positional data. After establishing those ratings, we move onto the play-by-play analysis. For each possession, the system looks at who is on the floor and ranks them 1 to 5 based on true position, and assigns their position for that possession accordingly.
One offshoot of this process is that we can easily glimpse at which teams are playing the biggest or smallest lineups. Guess which team is playing the smallest in the NBA? It's the New York Knicks, who have been wildly successful using a lineup that I called for just last week. In that piece, I didn't give Mike Woodson enough credit for his ingenuity; I fully expected him to wedge a non-starting-caliber power forward into his lineup. Woodson has instead gone with a small group that has been sterling on both ends of the floor.
Here are the top 10 big men for Oct. 31-Nov. 1. (Players listed by winning percentage; any player who played a total of at least 30 minutes at center or power forward last week is eligible for the rankings.) Also included at the bottom are big man projections for next week.
Davis
Before Davis was clocked in the head by teammate Austin Rivers last week, he had played six quarters about as well as any rookie has played out of the gate in recent memory. Yesterday, I jumped on board with those suggesting that Davis will spend plenty of time on the wing this season in order to speed up the development of his offensive game. It's already happened to a certain extent, which I wasn't aware of until I ran the play-by-play data. According to my true position system, Davis has played 8.8 of his 43.5 minutes at small forward.