This week, the Big Man Barometer tallies up the performances of all the power forwards and centers across the league and ranks them using season-to-date WARP.
The missing name is Carmelo Anthony, who has played power forward for about 72 percent of his minutes during New York's five-game winning streak to start the season. Clearly, Anthony has been a big part of the Knicks' fast start. He has used 34.1 percent of the Knicks' possessions while on the floor, making him the highest-volume offensive player in the league. But New York has played just five games, and WARP is a function of both efficiency and playing time, and through no fault of his own Anthony hasn't logged as much time as other top players around the league.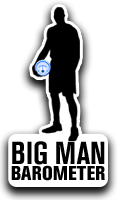 Top big men from the last week are ranked by individual winning percentage, the rate stat component of WARP. Our exclusive schedule-adjusted projections use a combination of SCHOENE forecasts and season-to-date data.
We'll be predicting the weekly numbers for NBA big men based on a Monday-to-Sunday schedule suitable for weekly head-to-head fantasy leagues.
By this method, SCHOENE is combined with actual results to product a new baseline forecast for each player. These are then adjusted for a player's upcoming opponents and how well those competitors have defended his position. The projections are compiled in a module of NBAPET, my system for projecting, evaluating and tracking the league.
For the week of Nov. 7 to Nov. 13; Players listed by winning percentage; Any player who played a total of at least 30 minutes at center or power forward last week is eligible for the rankings. Also included at the bottom are big man projections for next week.