Since we're publishing on a holiday, which tends to stir feelings of nostalgia, I thought I'd take the occasion to highlight what might be the greatest big-man season of all time. I'm referring to Kareem Abdul-Jabbar's 1971-72 season for the Milwaukee Bucks. And, yes, this is a contrived way of paying homage to the man who was honored with a sky-hooking statue that was unveiled at Staples Center last week.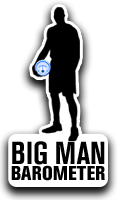 Milwaukee had won its first and only NBA title the season before and was still a couple of years from dealing its franchise center to the Los Angeles Lakers in a megadeal. If that scenario sounds familiar, it's one that has played out time and again in the NBA annals: Big man plays in small market and gets grumpy. Big man goes to the Lakers and wins championships. Anyway, it was also the first season Abdul-Jabbar played after changing his name from Lew Alcindor.
Abdul-Jabbar was just 24 years old in the '71-72 season and was at the height of his powers. The game was geared toward size, and Abdul-Jabbar chewed up a portion of the Bucks' offense that big men today can only dream about. He averaged 34.8 points on 57.4 percent shooting, 16.6 boards and 4.6 assists while playing 44.2 minutes per game. He led the league in PER (which, of course, hadn't been invented at the time) and was in a stretch of leading the NBA in that category in eight out of nine seasons.
Suffice to say, no one in this year's Barometer will be putting up number like that, the greatest season by the game's all-time scoring champ.
Details on how the Big Man Barometer is compiled can be found here.
Top 10 Big Man Performances
(Week of Nov. 14-20) Players listed by winning percentage. Any player who played a total of at least 30 minutes at center or power forward last week is eligible for the rankings. Also included at the bottom are big man projections for next week.