We're far enough into the season where we can now start looking at performance trends, such as who are the most improved big men in the league.
To that end, we'll define "most improved" as big men who qualify for the Barometer's season standings in WARP and have most overachieved their projected winning percentages. Also, to keep our focus on players on the upswing, we'll limit the list to players who will be 25 years old or younger by the end of the regular season.
If you've been reading the Barometer each week, you won't be surprised to see Houston's Greg Smith heading up the list. Last week's champ was a little-known quantity entering the season and, let's face it, he still is. Nonetheless, his per-possession production has not only been outstanding, but it's nearly 20 percent better than what we projected it would be.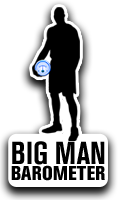 While Smith and Ed Davis have exceeded expectation on the stat sheet, they haven't leveraged that into big-minute roles for their respective teams just yet. That may change soon for Davis, who toils for a battered Raptors squad that suited up just eight players on Tuesday. That resulted in Davis putting in a career-high 45 minutes, during which he led Toronto with 24 points on 11 for 13 shooting and 12 rebounds.
However, Milwaukee's Sanders is probably your big man entrant in the Most Improved Player derby because he's not only picked up his performance, but his coach, Scott Skiles, has rewarded him with a major rotation role. Sanders averaged 27 minutes in three games last week and continued to block shots at a near-record pace.
Details on how the Big Man Barometer is compiled can be found here.
Top 10 Big Man Performances
Week of Dec. 5-11. Players listed by winning percentage. Any player who played a total of at least 30 minutes at center or power forward last week is eligible for the rankings. Also included at the bottom are big man projections for next week.