It's been a while since we checked in on our true position rankings this week, so let's see which teams are playing big and which are going small.
Early in the season, the Knicks played the smallest lineups in the league, but that's started to change since Amar'e Stoudemire returned from his knee injury. New York now ranks 28th in true position rating, ahead of only Phoenix and San Antonio. Last week, the Knicks were 21st. If you recall, the Knicks were mostly unbeatable when playing small full time.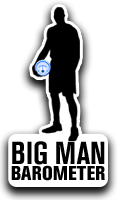 At the other end of the spectrum, the Bulls have played the biggest lineups for the season and that's been consistently the case. The Bulls are first in true position rating for the season, and they were first last week. If anything, the emergence of Jimmy Butler has Tom Thibodeau playing even bigger configurations. When Butler and Luol Deng share the floor, it in essence gives the Bulls two small forwards on the court.
The team whose recent rating has departed the most from its season trend is Toronto. Last week, the Raptors played the smallest in the league with a tiny true position score of 2.58 (3.00 is average). This is partly due to positional designations, as opposed to the diminutive nature of the players Dwane Casey has put on the floor.
Casey's most frequently-used lineup last week featured DeMar DeRozan and Landry Fields on the wing, and both players are tagged as natural 2-guards by their career data. In the frontcourt, Amir Johnson and Ed Davis -- before Wednesday's trade -- has been the regular tandem, and both are power forwards. So there you go.
Details on how the Big Man Barometer is compiled and the true position system can be found here.
Top 10 Big Man Performances
Week of Jan. 23-29; players listed by winning percentage. Any player who played at least 30 minutes total at center or power forward last week is eligible for the rankings. Also included at the bottom are big man projections for next week.
McGee
The Nuggets are on a roll, so for once, I'm not going to quibble with McGee's playing time. Besides, George Karl is well aware of the numbers. Just a couple of days ago, he cited data about how much better Denver's defense is when Andre Iguodala shares the court with Kosta Koufos. To his credit, McGee continues to make the most of the opportunities he's been given. In two games last week, McGee played a total of just 32 minutes, so he almost didn't qualify. He made 11 of his 13 shots and, in case you're wondering, all his made shots came from 8 feet and in, while the two misses were outside that range.