The one man who might be standing between the Los Angeles Lakers and the playoffs hasn't been himself for nearly three years. Nevertheless, the flagging Golden State Warriors are going to need some kind of presence from oft-injured center Andrew Bogut to stop a slide that might deny them a postseason berth, something that seemed assured after a great start.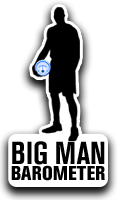 Wednesday's loss in New York was one of the more entertaining games of the season -- featuring Stephen Curry's league season-high 54 points -- but in the end was just another loss for Mark Jackson's crew, a team that seems to have lost its way. Golden State has dropped eight of 11 since going a season-best 13 games over .500 on Feb. 2. Most of those losses have been on the road, so there is no need for mass panic just yet. However, for the Warriors to rediscover their early-season success, they are going to have to figure out what has been ailing their defense.
That's where Bogut comes in.