DOC RIVERS' OFFICE inside the Staples Center appears to be a temporary stand-in. It's as if he plopped down in the plucky intern's room while his corner suite with a mountain view undergoes a renovation.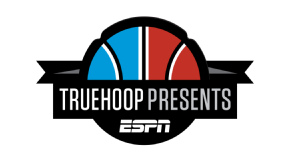 But this is not the intern's room, nor a walk-in closet; this 9-by-7 opening is, in fact, the office for the head coach and president of basketball operations. Rivers is currently wrapping up his pregame prep for the San Antonio Spurs, who are in town for a late December matchup. The barren walls behind him blend into his white Oxford shirt, which is currently unbuttoned at the top, as it always is one hour before tip-off. (The pink-and-navy game tie would come later.)
There are no windows in here, no panoramic view of the surrounding San Gabriel mountains. No plaques on the white walls. No trophies from his championship season in Boston back in 2008 or his Coach of the Year award from his days in Orlando. A noticeably undecorated room for one of the NBA's most decorated figures. In fact, after an offseason rearrange, the office is smaller than it used to be.
At the moment, Rivers munches on his pregame meal, which is tightly packed into two Tupperware containers. A leafy salad with grains and light dressing in one plastic tub. A seasoned steak and small potatoes paired with a lobster tail (red shell still on) in the other. Four years have gone by, but his New England food cravings and championship aspirations remain fresh as ever.
"Oh, it's good food," Rivers says.
Nourishment and health are on Doc's mind as, outside the walls of his office, Spurs coach Gregg Popovich, general manager R.C. Buford and the rest of the Spurs' staff march into the arena for the night's marquee matchup. Rivers says the Spurs' brass have set the bar when it comes to keeping their players fresh and healthy.
The Clippers, however, have been a different story, Rivers admits. Under previous owner Donald Sterling, Rivers believes the Clippers were woefully understaffed to treat and prevent injuries in ways that other teams could.
"We had one trainer, one physical therapist," Rivers says. "We were just behind. They didn't spend money before."
Former Clipper Jared Dudley claimed on ESPN.com's Lowe Post podcast in July 2015 that he was dogged with a fractured knee all season with the Clippers before getting traded to Milwaukee. Dudley says his knee healed after two weeks under the Milwaukee Bucks' care.
That organizational shortcoming stung after three trips to the playoffs, all three torpedoed with ill-timed injuries. The Clippers still haven't reached the Western Conference finals in the franchise's history. Finally, this summer, Steve Ballmer, the former Microsoft CEO who spent $2 billion to acquire the team in the summer of 2014, had seen enough.
It was time to bring the Clippers' operation into the 21st century.
---
DON'T COUNT RIVERS among those who believe in the "Clippers Curse." In the 2016 postseason, when Blake Griffin aggravated a quad injury and Chris Paul broke his hand, Rivers conjured up the most famous hexes in sport but stopped short of lumping his team in the mix.
"Is it the Billy Goat?" Rivers said. "Babe Ruth never played for us. We didn't trade him. There's no jinx there. It's bum's luck three years in a row."
Year after year, the Clippers have been hammered with injuries. For nine straight seasons starting in 2005-06, the team never finished among the 10 healthiest teams by games lost due to injury, according to injury-tracking site InStreetClothes.com. That streak ended in 2014-15 -- hooray! -- only to be undone by devastating playoff injuries in 2015 and 2016. And even today, as the team fights through injuries, Rivers still refuses to blindly chalk it up to some faceless group of vengeful basketball gods.
Instead of shirking responsibility and resigning it to bad luck, Rivers went to work this past summer to establish a sports science and performance department to complement the work of Clippers trainer Jasen Powell, who has been with the team for almost two decades. Rivers, along with Lawrence Frank, who moved from the coaching bench to the front office as executive VP of basketball operations, picked up the phone and called around the league to find the best talent and bring it to the Clippers.
They settled on Mark Simpson, who was a British performance guru in the world of cycling before the Oklahoma City Thunder made him the first full-time sports science director in the four major American sports. This summer, the Clippers hired him away from their Western Conference foe -- then set to work augmenting their nutrition, sleep and recovery systems to ensure they would get the most out of their players.
For the first time, they bought into Catapult GPS training systems and leveraged the workload data to amplify their decision-making. Now at every practice, players wear a GPS tracker strapped to their bodies. The front office and coaching staff logs as much time surfing Second Spectrum's analytics software as any team in the league.
"We track everything," Rivers says. "I'm still learning. I'm still new to it."
So why didn't they do all this sooner?
"Well, we couldn't," Rivers says. "People don't realize Steve [Ballmer] bought the team and in the first year, he was just trying to get things going. It was this summer where we could sit him down ... and talk to him about all the things we need to add and get going. Last year, it was too quick of a turnaround."
It took time, in other words, to rebuild from the Sterling era -- and lots of presentations. "The thing I love about Steve is that you've got to show him why," Rivers says of the sales pitches for different types of technology and staffing. "He's not just a blank check -- you wouldn't want that anyway. The apathy hurts you; you wouldn't be as good."
When assessing the rest of the league, Rivers found two problem areas in his own organization: scouts and science. According to the Clippers' reports, the rest of the league had 10 staffers in the scouting department and the Clippers had just two. "And you have to show [Ballmer] why and how far we were behind other teams in literally every department," Rivers says. "And these were easy ones."
The implication is obvious. The Clippers' most recent playoff exit came just after Griffin aggravated a left quadriceps injury in Game 4 of their first-round series against Portland last postseason. Earlier that season, he had partially torn his quad tendon on Christmas Day and had also broken his hand in an altercation with a team staff member. And Paul, also in Game 4, fractured a bone after getting tangled in an opposing player's jersey. The season was finished after that; the short-handed Clippers lost the next two games.
To what degree could these injuries have been prevented? "You're always thinking there's something you could have done. With Chris' hand, you couldn't have done anything. That was just going to happen. Maybe I could have told him to stop reaching," Rivers says with a laugh.
But Griffin? That one's a little trickier.
Rewind to April, just before the playoffs, when Griffin admitted he was still playing with a small tear in his left quadriceps tendon. The tear, Griffin said, wasn't allowed to heal while working out and "we weren't addressing the initial problem -- the main problem." Three weeks later, Griffin aggravated the injury so badly he needed to be shut down -- not just for the playoffs, but for the 2016 Summer Olympics after undergoing a bone marrow procedure. (Griffin had already missed the 2012 Olympics with trouble in the same knee.)
Sitting in his office, Rivers seemed to wrestle with the question of how to prevent Griffin's playoff injury.
"With Blake, you know ... you never know. Like, if we ... I don't know. I mean, I actually think Blake's ... you couldn't have ... I think Blake's was probably -- I always say that if you miss games, and he missed with his [broken] hand, then when you come back, everything falls apart next. He had what we call 'one of those years.' And there was nothing you could do about it."
And then Rivers pauses.
"But you still wonder, like, if there was ... would we have been ready to do it?"
---
ON MOST NIGHTS, Rivers sees Popovich not as an opponent, but as a giant. Few remember that Rivers used to work for Popovich. In Rivers' last two seasons as a player, Popovich was the boss -- the general manager and VP of basketball operations for the Spurs. When Popovich took over as the coach in 1996, Rivers sat nearby as the Spurs' broadcast commentator and later nearly replaced Popovich as coach. Just before the epic 2015 first-round series between the two teams, Rivers called Popovich the best coach of his era, alongside Red Auerbach and Phil Jackson.
"I'm not on that level," Rivers said before his Clippers ousted the Spurs.
But now on this night in December 2016, Popovich is standing between Rivers and win No. 22.
Popovich -- the longest-tenured coach in the four major sports -- single-handedly pioneered the NBA's trend of resting stars in-season to preserve their bodies. To find the best medical and performance staff, the Buford-led front office scours the globe for health talent, casting a net as wide as it does for its players.
"Medically speaking, in the United States, we fix injuries. But in some other countries, they try to prevent injuries."

Doc Rivers
The Spurs' staff directory reads like a United Nations roll call. The Spurs' director of medical systems? That's Phil Coles; he hails from Ireland. The director of rehabilitation, Marilyn Adams, was hired from the Triathlon Canada team and got her start with the Calgary Rugby team back in 1993. Xavi Schelling, the team's director of sports science and athletic performance, was plucked from Barcelona, where he worked in the ACB Spanish league. Heck, Popovich's lead assistant, Ettore Messina, was inducted into the Italian Basketball Hall of Fame in 2008.
"We want to be a world-class organization," Rivers says.
After the game, Rivers confesses that the Clippers are not on that level yet.
"They do a great job over there," Rivers says of the Spurs. "They know exactly what they're doing. We're trying to be that good ourselves on and off the floor. They're the team to follow."
Though the Clippers' additions aren't as worldly as San Antonio's, the team did add multiple performance gurus and scientists to the staff. The team's new director of sports performance psychology is Ross Flowers, a former psychologist for Team USA track and field. Assisting Simpson with workload technology is Jay Porterfield, a 25-year-old former USC track runner and coordinator at USC's Body Computing department. He was hired to be the team's performance scientist and biomedical data analyst.
And before taking down the Lakers recently, Rivers explained the team's new philosophy, pulled straight from the Spurs' playbook. "Medically speaking, in the United States, we fix injuries," Rivers said. "But in some other countries, they try to prevent injuries."
---
THIS SEASON HAS certainly tested Rivers' conviction.
After a hot start that launched him into the MVP conversation, Paul has been wrestling with a hamstring pull he suffered in that Spurs game, an injury he might've played through in years past, according to Rivers. In mid-January, Paul tore a ligament in his non-shooting hand. In late December, Griffin was shut down to undergo arthroscopic surgery in his right knee. According to injury tracking site ManGamesLost.com, the Clippers have suffered the most due to injury this season, after accounting for player quality.
This is the ultimate litmus test for Rivers. Would he still sideline players who could play even if it meant more losses? Rivers says they're sticking to the plan.
"We're still going to do it," Rivers says. "We're going to rest guys. It'd be nice in these next 41 games to put everybody in and just play them to get everyone playing in rhythm. But health is more important. And we're going to stick to this thing."
---
THE AIR IN the Clippers' postgame locker room in the past reeked of drying sweat and freshly applied body spray. These days, though, it also smells like a James Beard award-winning kitchen during a dinner-time crush.
By the time the Clippers bound into the locker room celebrating their win over the Spurs, the trays of gourmet food are ready, just as Simpson arranged. The players gobble up a postgame meal designed to replenish the body's reserves of essential protein and carbohydrates. "You lose it during the game, and you got to get it back," Rivers says. "Postgame meals starts the recovery quicker."
Little white cards next to the heated trays read as if they were pulled straight from a Malibu wedding buffet. Honey caramelized carrots; baby kale salad with strawberries and fig balsamic dressing; homemade cornbread paired with a half-empty bottle of Whole Foods honey; rice pilaf with roasted garlic and caramelized onions; hearty turkey and bean chili; herbed sea bass, the main entree.
"We're still going to do it. We're going to rest guys. It'd be nice in these next 41 games to put everybody in and just play them to get everyone playing in rhythm. But health is more important. And we're going to stick to this thing."

Doc Rivers
This is still new to Rivers. He laughs at the thought of a feast being available in his locker room during his playing days. Hours would go by, Rivers says, before they even lifted a fork and knife at the local steakhouse for their postgame meal. Rivers' teammates didn't think of meals as refilling the gas tank. Now, it's as central to a player's routine as getting shots up.
Rivers remembers the days when NBA players took horse painkillers that trainers would use to treat arthritis after races. They were called DMSO's or dimethyl-sulfoxide, and they weren't uncommon in NFL and NBA locker rooms.
"Back in my day, these players had 100 injuries and some of the things we took," Rivers says, trailing off with a laugh. "It's crazy. It's ridiculous. I'm not going to say who, but there was this thing with DMSO that people know about. I don't know who took that stuff, but it was illegal for horses. Guys were taking it to play. For us, we just wanted to play. We didn't know any better."
Rather than be embittered by the healthcare of today's athletes, Rivers says he is appreciative. He applauds the player's union and NBA for providing health insurance for retirees. It hits Rivers when he looks around and sees his former teammates hobbling around arena stairs.
"Have you seen Scott Hastings walk?" Rivers asks, referring to his longtime Atlanta Hawks teammate.
Rather than ask players to fight through injuries, Rivers has given days off to Griffin, Paul and J.J. Redick at various points in the season. After dropping two games heading into a Nov. 29 matchup against the Brooklyn Nets, Rivers gave Griffin a DNP-rest, the first in franchise history before the calendar turned to January. The Clippers lost that game in double overtime, yet Rivers was undeterred. Whatever increases the chances that the team won't break down again come playoff time.
"I hear people griping about guys missing games, and the fans have a gripe because they're paying for tickets," Rivers says. "But at the end of the day, it's really important for long-term health and for team health that we do the right thing. I mean, it's all kinds of s--- that I wish I had."