Updated:
April 30, 2014, 12:18 PM EST
2014 NBA draft Big Board 9.0
Stauskas rises, Payton debuts in first board following draft declaration day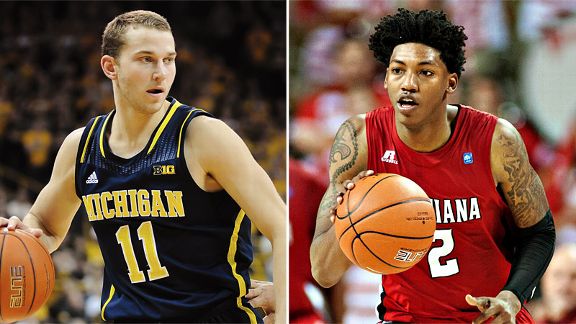 USA TODAY SportsNik Stauskas and Elfrid Payton are climbing up the ranks.
The deadline for players to enter the NBA draft came and passed on Sunday night.
Several players from Big Board 8.0, including Montrezl Harrell, Willie Cauley-Stein, Rondae Hollis-Jefferson and Chris Walker, opted to return to college for another season, which opened up a few spots on our Big Board. With the college season over, most of these players are now off to train in L.A., Las Vegas, Chicago and New York until the NBA draft combine in mid-May in Chicago.
Until then, here's our ninth Big Board of the 2014 NBA draft.
1
2013-14 STATS
PPG 17.1
RPG 5.9
APG 1.5
Wiggins isn't the unanimous pick to be at the top. In fact, we are still at least six weeks away from teams starting to finalize their own Big Boards. While there are a number of scouts and GMs in Jabari Parker's or Joel Embiid's corner, the ones that matter now are the seven teams with a semi-realistic shot at going No. 1. Together they hold a 90 percent chance of winning the lottery and getting the first pick. I've been speaking to sources inside each of these teams for months, and it looks like a majority of them -- especially the three teams with the best chance of landing the No. 1 pick (the Bucks, Sixers and Magic) -- are leaning toward Wiggins right now. That can change with workouts, the draft combine, etc. But I think it's his to lose.
2
2013-14 STATS
PPG 19.1
RPG 8.7
APG 1.2
Parker has his fans, too. He's widely considered the safest player in the draft and the guy who can have an instant impact on Day 1. If the Jazz, Cavs or Pistons get No. 1, I think they would lean toward Parker. The Celtics, Lakers and Kings are all possibilities to take him No. 1, as well. If he can get in great shape in workouts and prove to teams he has the lateral quickness to defend NBA 3s, he'll get even more teams on board.