Updated:
April 17, 2014, 10:39 AM EST
Kiper: Mock 4.0 goes two rounds
Two full rounds of picks with surprises at quarterback in latest mock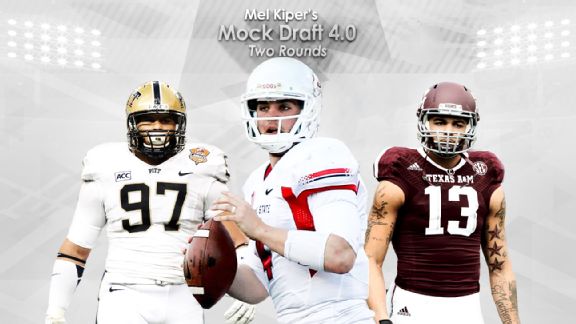 ESPN IllustrationIn Mel's latest mock, Derek Carr makes his way into Round 1.
A couple things to remember as you read the latest mock draft, for which I've projected not just one, but two rounds:
• This does NOT reflect my prospect rankings. It reflects a projection of how I believe decision-makers for teams currently value players. For my latest prospect rankings go to the Big Board and the top 10 prospects by position.
• As you hear about players "rising" and "falling" among evaluators with teams, remember that while it can be a smokescreen, it also reflects the reality that even now, there are decision-makers who are still getting caught up with tape and evaluations on prospects. You never truly get perfect information in a market sense.
With those things noted, let's get into the picks.
1
Jadeveon Clowney
Houston Texans (9-7)
Analysis: I'm certain the debate about which player to take still exists, and whether the pick could be moved. I still think this could be a quarterback. But I believe that while more than one "safe" pick exists in this draft, it's hard to play it safer in terms of upside than selecting a generational physical talent, a guy who has exceptional physical skills and the ability to bring immediate impact and create consistent matchup problems up front as teams deal with the reality of how to block both Clowney and J.J. Watt. The questions on Clowney still aren't enough to diminish the potential impact. He's the top prospect in a draft full of very good ones, and I think Houston will feel the same.
2
Greg Robinson
Los Angeles Rams (4-12)
Analysis: If I'm making the pick, I'm willing to consider Sammy Watkins here based on need, and would also certainly consider the option of moving down a few spots if the offer is rich enough. But Robinson is one of the better offensive linemen to enter the draft in years, with the upside of an All-Pro at left tackle, capable of neutralizing the best pass-rushers and absolutely mauling defenders in the run game. St. Louis can select him knowing an impact wide receiver is still going to be available at No. 13 (and even beyond that given the depth at the position).