Updated:
April 29, 2014, 10:20 AM EST
Kiper: NFL Mock Draft 5.0
Big changes in the middle of Round 1 highlight Mel Kiper's latest projection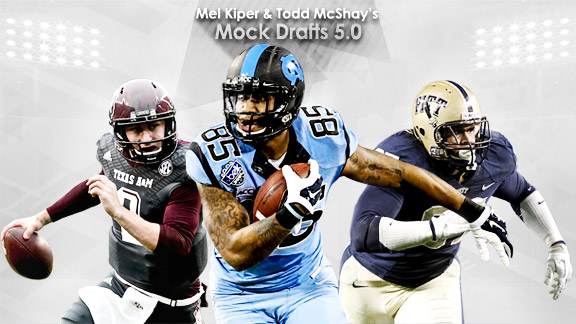 ESPN IllustrationWhen will Johnny Manziel, Eric Ebron and Aaron Donald go off the board?
Even as I talk to evaluators at this last stage in the extended evaluation period before the NFL draft, I know the internal debates about who to take will continue right up until the commissioner announces each team is officially on the clock. In fact, the added time will probably cause even more uncertainty about which player to pick because the comfort level in evaluations with more and more players is even greater.
A few things to remember as you read the latest mock draft:
• Again, the mock is not a reflection of my prospect rankings. It's simply a projection of a pick at each slot.
• While I certainly like to think the fits could reflect the pick, of more importance to me is to show which players are likely to land in the range they are ultimately selected.
• As always, while I know many trade possibilities are being discussed, they aren't reflected here unless they are final.
With that noted, let's take a look at the latest update to the mock.
1
Jadeveon Clowney
Houston Texans (9-7)
Analysis: No change here from the last mock. I'll also say again that I believe the Texans are still evaluating multiple options for this pick and certainly would listen to offers, but in this scenario, I feel they will ultimately go with the best player available. I know people will question scheme fit, but guys like Clowney, and certainly J.J. Watt, really transcend scheme. You shift the gap assignments and alignments for guys like these, and you're still going to see major disruption. If you skip sack totals and focus on disruption, Clowney really wasn't a lesser player in 2013 than he was in 2012.
2
Greg Robinson
Los Angeles Rams (4-12)
Analysis: This is also a spot at which I've noted before I'd consider going with Sammy Watkins. And the Rams should also keep the phone lines open here. But if they stay, I think Robinson fits a pretty good balance equation of major talent and major need. This is a player with the upside of an All-Pro tackle. There's still some development left here, particularly in the passing game, but Robinson is only a year removed from playing guard. Not only can St. Louis pass on a wide receiver here, it's a loaded draft at that position and the Rams can pass on WR at No. 13, too, and still be fine.