Updated:
May 08, 2014, 10:35 AM EST
Kiper: Final 2014 Mock Draft
Mel Kiper takes a final stab at predicting the first round of the NFL draft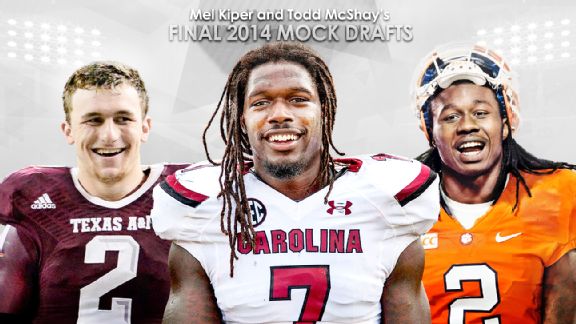 ESPN IllustrationAfter a season of rankings and mocks, the NFL draft has finally arrived.
It's a little disconcerting to have to put together a mock draft while talking to teams you know have an interest in trading into and out of different pick positions. And I feel with some certainty we'll see a few moves on Thursday night. In talking to folks around the league at this time of year every season, you can always see how even when a team is zeroed in on who it plans to draft, it knows it has to be ready to adjust if the board breaks in a manner it didn't expect, and I think that could create at least one big surprise with quarterbacks. We'll see teams using the full 10 minutes, I believe.
A few things to remember as you read the latest mock draft:
• Again, the mock is not a reflection of my prospect rankings. It's simply a projection of a pick at each slot.
• With the final mock, I am particularly concerned with reflecting which players I believe will go in Round 1, not just the order.
• As always, while I know many trade possibilities are being discussed, I won't predict any here. I did add some possible options teams are debating at each slot.
With that noted, here's the final mock. Hope you all tune in and enjoy the draft ...
1
Jadeveon Clowney
Houston Texans (9-7)
Analysis: The mock draft could go up in smoke early if the Texans are able to trade down, and the phone lines are open. If they aren't able to get enough value in return, however, they go with Clowney, choosing him over Khalil Mack. While Mack could be a great fit on paper based on the current scheme, Clowney is a generational talent -- one who still must develop, but a special talent nonetheless -- and is more befitting the upside you have to target with the No. 1 overall pick. He can be a difference-maker even as he develops a full arsenal as a pass-rusher.
2
Greg Robinson
Los Angeles Rams (4-12)
Analysis: This is another trade-down possibility. But if they stay, I think Robinson fits a pretty good balance equation of major talent and major need, and he's a player the Rams have been impressed with when they brought him in. He has the upside of an All-Pro tackle. He has work to do, particularly as he becomes comfortable as a pass protector, but Robinson has the talent and the frame to be special there. The Rams could pass on a need at wide receiver here and still get a good one into Day 3.