Updated:
April 30, 2015, 07:02 AM EST
Final 2015 Big Board: Top 300
Mel Kiper delivers his final ranking of the top 300 prospects for the 2015 NFL draft.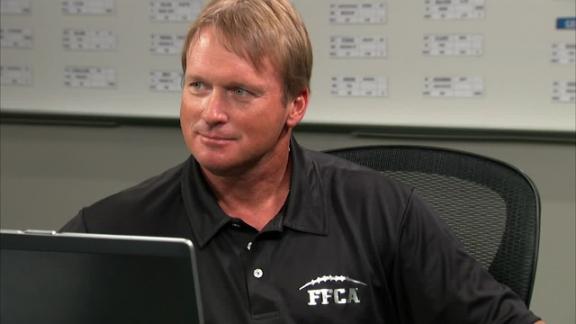 Gruden's QB Camp: Disagreements
Finally. We can stop ranking players, and start drafting them. What you have below are my final rankings of prospects for the 2015 NFL draft.
Again, these rankings are NOT a prediction about draft order, only how I rank players based on my own evaluations. As well, remember that a listed position doesn't imply the player will end up there. Guys get moved around all the time.
1
Analysis: He's not going to be the top player in the draft, but I don't think there's a player who delivers more certainty in terms of a high floor. Williams is long, powerful and versatile, and while occasionally maligned as a pass-rusher, he can produce there if you set him free with that purpose paramount. He jolts blockers, has exceptional awareness and always finds the ball, and he disrupts regardless of where he's lined up. Odd fronts, even fronts -- it really doesn't matter. He's a special athlete who could be drafted by any team and make an immediate impact, regardless of scheme.
Video highlights

2
2014-15 STATS
REC 115
YDS 1656
AVG 14.4
Analysis: Cooper truly aced the season and then aced the draft process. You draft him with such confidence in his production. There's nothing Cooper doesn't do really well. He separates well, beats the press, sets defenders up, identifies coverage and easily hits a second gear. His hands are very good, not perfect, but Cooper makes both routine and contested catches. He's a worker. There should be no way he escapes the top four.
Video highlights

3
Analysis: Fowler has only improved his status during the draft process, and not just because questions have popped up on other pass-rushers. The athletic profile is great for a player his size. He can stand up or play with his hand on the ground and rush the passer or set the edge, and he has shown versatility, if not one area where he truly dominates. If there's a concern, it's that the ability as a pass-rusher out-paced the production, and I think there's more productivity to be found, A certain top-five pick now.
Video highlights

4
2014-15 STATS
YDS 3559
TD 24
INT 17
Analysis: He has the talent of a player who should top the Big Board, but the likely No. 1 pick has to prove he can be a football CEO -- and that's a big question. As a player, Winston has a savvy football mind and great physical talent, with special pocket instincts and the necessary vision, size, arm strength and athleticism. The release has been sped up, but he'll need to show the same mechanics in games. The INTs were a problem, I just think they were a fixable one. He's coming from a system that offers complexities far more reminiscent of what you'll see on Sunday.
Video highlights