Updated:
April 30, 2015, 12:45 PM EST
Kiper: Final 2015 NFL Mock Draft
Mel's final Mock Draft of 2015 has the two QBs going 1-2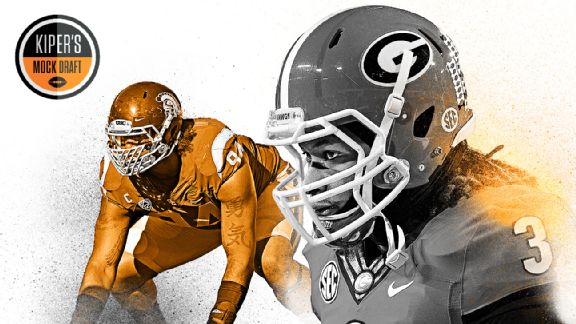 ESPN IlustrationTodd Gurley is likely to break a two-year streak of no RBs in Round 1.
When you talk to decision-makers across the league leading up to the NFL draft, you hear people who are confident in their evaluations of players, but uncertain about the best decision to make. And that uncertainty can continue right up until the final moments before they make their pick. It's not because they aren't confident they're getting a good player, it's because so much preparation and so much research will make them confident in multiple options. And that's before all the trade scenarios enter the picture.
So for this final mock, let's do something different. I'll tell you why they'll make the pick, and I'll also point out the alternative directions they could be considering. As I put this together, with the draft about 20 hours away, it's just a reality that there is still a lot of debating going on and a number of deals on the table.
I'll try to reflect that. Thanks for reading all season, and enjoy the draft.
1
Jameis Winston
Tampa Bay Buccaneers (9-7)
Why they take him: They place a bet on Winston's exceptional talent and his NFL-readiness from a field-level view, and hope the off-field maturity and "CEO" leadership develops.
Why they pass: I don't think they will, but the No. 2 QB on the board offers tons of upside on the field and less downside off it.
2
Marcus Mariota
Tennessee Titans (9-7)
Why they take him: It will be because they don't have a perfect trade offer OR a solid long-term solution at QB and can see that Mariota has all the skills to become a very good NFL QB if given time.
Why they pass: The trade offer comes, they get a ton of value and are willing to build around Zach Mettenberger. This is an obvious trade spot and it won't surprise anyone if they aren't making the pick.